Lich

A lich is the physical embodiment of black magic's first goal: the quest to achieve immortality. Though a great deal is sacrificed in the rebirth, in becoming a lich one cheats death of that which truly gives it terror. For it is the mind that is retained, and the spirit which follows, though the body may wither away.

It is not known, save perhaps by the inner circles of necromancy, whether life is prolonged indefinitely or simply extended. But the fact that this question can be raised at all, testifies to the magnitude of what their order has achieved.

Īpašas piezīmes: Šai vienībai ir maģiski uzbrukumi, kuriem vienmēr ir liela trāpīšanas iespējamība. Kaujas laikā šī vienība spēj izsūkt dzīvību no saviem upuriem, lai atjaunotu savu veselību. Šīs vienības mistikas uzbrukums rada satriecošus bojājumus maģiskajiem radījumiem, un kaut kādus arī pasaulīgajiem radījumiem. Šī vienība spēj pārvietoties neredzēta dziļos ūdeņos, un tai nav nepieciešams gaiss no virspuses.
Information
| | |
| --- | --- |
| Attīstās no: | Dark Sorcerer |
| Attīstās uz: | |
| Izmaksas: | 50 |
| Veselība: | 60 |
| Pārvietošanās: | 6 |
| Pieredze: | 150 |
| Level: | 3 |
| Īpašība: | haotisks/-a |
| ID | Lich |
| Spējas: | nirst |
Uzbrukumi (damage - count)
pieskāriens
tuvcīņa
8 - 3
mistisks
izsūkšana
chill tempest
lādiņš
12 - 3
saldē
maģija
shadow wave
lādiņš
9 - 3
mistisks
maģija
Izturība
griež
10%
caurdur
30%
sit
-10%
dedzina
-20%
saldē
60%
mistisks
-40%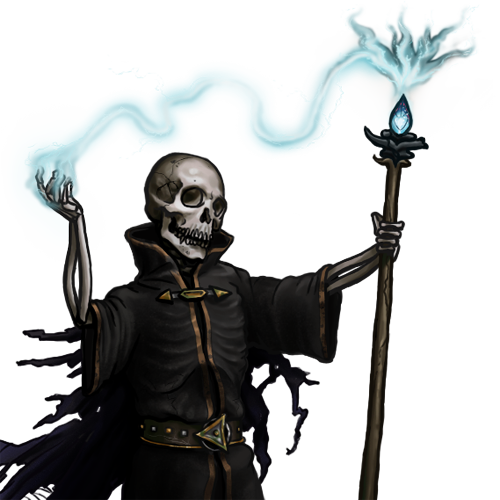 Apvidus
Pārvietošanās izmaksas
Apvidus
Aizsardzība
Ala
2
40%
Ciems
1
60%
Dzelme
3
10%
Kalni
3
60%
Līdzenums
1
40%
Mežs
2
50%
Necaurejams
-
0%
Pauguri
2
50%
Piekrastes rifs
2
30%
Pils
1
60%
Purvs
2
30%
Sasalis
2
30%
Seklums
3
20%
Smiltis
2
30%
Sēņu birzs
2
60%