Umacı

Bir umacı kara büyünün ilk amacının fiziksel şeklidir: ölümsüzlüğe ulaşmanın. Tekrar doğumda büyük bir fedakarlık yapılsa da, ceset haline gelirken ölümden kaçmak gerçek terörü verir. Onun için akıl ve ruh aynı kalır ama beden çürür.

Yaşamın sonsuz mu uzadığı ya da sadece uzadığı mı, Nekromantiğin kendinden başkası hariç kimse tarafından bilinmiyor. Ama sadece böyle bir şeyin düşünülmesi bile onların neyi başardığının boyutunu gösteriyor.

Özel Bilgiler: This unit has magical attacks, which always have a high chance of hitting an opponent. Savaş sırasında bu birim kurbanlarının yaşam enerjisini emerek kendi yaşamını yeniler. Bu birimin gizemli saldırısı yarı ölülere ve hatta bazı yaratıklara karşı çok büyük hasarlar verir. Bu birim derin suda yüzeyden hava almaya ihtiyaç duymadan ve görünmeksizin hareket edebilir.
Information
| | |
| --- | --- |
| Şundan terfi eder: | Kara Sihirbaz |
| Şuna terfi eder: | |
| Bedel: | 50 |
| YP: | 60 |
| Hareket: | 6 |
| TP: | 150 |
| Level: | 3 |
| Hizalama: | kaypak |
| ID | Lich |
| Yetenekler: | dalış |
Saldırılar (damage - count)
dokunma
yakın
8 - 3
gizemli
sömürür
soğuk fırtına
menzilli
12 - 3
soğuk
sihirli
gölge dalgası
menzilli
9 - 3
gizemli
sihirli
Dirençler
kesme
10%
delme
30%
darbe
-10%
ateş
-20%
soğuk
60%
gizemli
-40%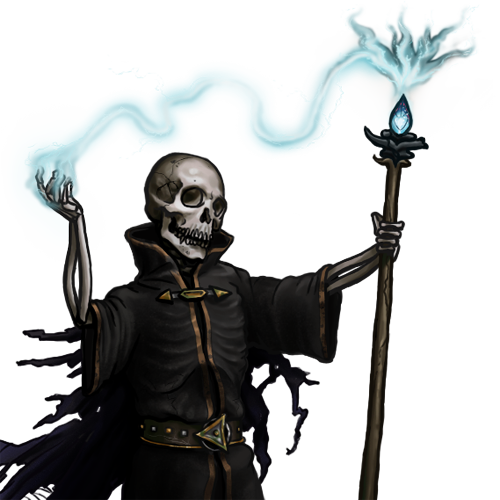 Arazi
Hareket Bedeli
Arazi
Savunma
Bataklık
2
30%
Dağlar
3
60%
Deep Water
3
10%
Kale
1
60%
Kar
2
30%
Kayalık Sahil
2
30%
Kum
2
30%
Köy
1
60%
Mantar Korusu
2
60%
Mağara
2
40%
Orman
2
50%
Sığ Su
3
20%
Tepeler
2
50%
Yürünmez
-
0%
Çayır
1
40%