Lich

En lich er en fysisk skal af den mørke magis mål: Missionen for at opnå udødelighed. Selv om der skal ydes store ofre i gendannelsen som lich så snydes døden, hvilket i den grad gør lichen til en terrorfremkaldende skabning. Det er sindet som bevares og sjælen som følger efter, mens kroppen svinder bort.

Det er ikke kendt, måske med undtagelse af den inderste cirkel omkring åndemaneri, om livet er forlænget evigt eller bare forlænges. Men bare at overveje en sådan ting viser omfanget af, hvad de har opnået.

Specielle bemærkninger: This unit has magical attacks, which always have a high chance of hitting an opponent. Under kamp kan denne enhed suge liv fra sine ofre og gendanne sit eget liv med dette liv. Denne enheds magiske angreb gør umådelig skade til magiske skabninger, og også til nogle levende skabninger. Denne enhed kan flytte uset i dybt vand. Den kræver ikke luft fra overfladen.
Information
| | |
| --- | --- |
| Forfremmes fra: | Mørk troldmand |
| Forfremmes til: | |
| Pris: | 50 |
| L: | 60 |
| Bevægelse: | 6 |
| EP: | 150 |
| Level: | 3 |
| Sindelag: | lyssky |
| ID | Lich |
| Evner: | dykke |
Angreb (damage - count)
berøring
nærkamp
8 - 3
magisk
dræn
kuldebølge
afstands
12 - 3
kulde
magisk
skyggebølge
afstands
9 - 3
magisk
magisk
Modstandskræfter
klinge
10%
stik
30%
slag
-10%
ild
-20%
kulde
60%
magisk
-40%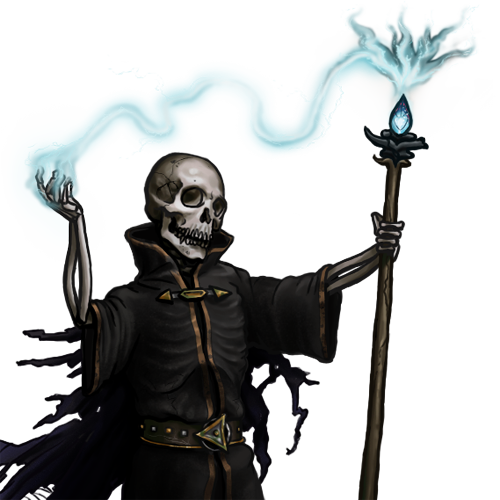 Terræn
Bevægelsespris
Terræn
Forsvar
Bakker
2
50%
Bjerge
3
60%
Borg
1
60%
Champignonskov
2
60%
Coastal Reef
2
30%
Deep Water
3
10%
Flat
1
40%
Frozen
2
30%
Hule
2
40%
Landsby
1
60%
Lavt vand
3
20%
Sand
2
30%
Skov
2
50%
Sump
2
30%
Unwalkable
-
0%