Lich

Een lich is de fysieke belichaming van het voornaamste doel van de zwarte magie: het streven naar onsterfelijkheid. Iemand die een lich wordt, een proces dat grote offers vergt, ontzegt de dood dat waar zij het meest naar verlangt. Want het is de geest die behouden blijft en de ziel die volgt. Het lichaam echter, vervaagt.

Het is onbekend, behalve misschien in de hoogste kringen van de dodenbezweerders, of het leven alleen maar gerekt of oneindig wordt. Maar alleen al het stellen van deze vraag toont aan dat ze iets gigantisch bereikt hebben.

Bijzonderheden: This unit has magical attacks, which always have a high chance of hitting an opponent. Tijdens een gevecht heelt deze eenheid door het leven uit zijn slachtoffers te zuigen. De mysterieuze aanval van deze eenheid brengt zware verwondingen toe aan ondoden, maar ook levenden zijn niet veilig. Deze eenheid is onzichtbaar in diep water, omdat hij nooit naar de oppervlakte hoeft om te ademen.
Information
| | |
| --- | --- |
| Promoveert van: | Zwarte Magiër |
| Promoveert tot: | |
| Prijs: | 50 |
| HP: | 60 |
| Zetten: | 6 |
| XP: | 150 |
| Level: | 3 |
| Alliantie: | wetteloos |
| ID | Lich |
| Vermogens: | onderduiken |
Aanvallen (damage - count)
aanraking
dichtbij
8 - 3
mysterieus
bloedzuiger
vriesstorm
afstand
12 - 3
koud
magisch
schaduwgolf
afstand
9 - 3
mysterieus
magisch
Weerstanden
scherp
10%
puntig
30%
stomp
-10%
vuur
-20%
koud
60%
mysterieus
-40%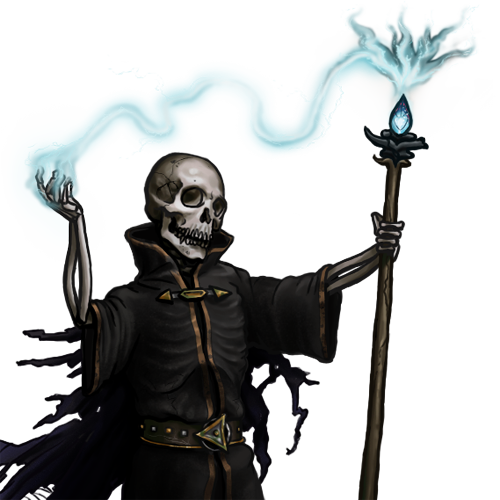 Terrein
Zetten
Terrein
Verdediging
Bergen
3
60%
Bevroren
2
30%
Bos
2
50%
Diep Water
3
10%
Dorp
1
60%
Grot
2
40%
Heuvels
2
50%
Kasteel
1
60%
Kustrif
2
30%
Moeras
2
30%
Onbegaanbaar
-
0%
Ondiep Water
3
20%
Paddenstoelenveld
2
60%
Vlak
1
40%
Zand
2
30%