Lich

Un lich és l'encarnació física del primer objectiu de la màgia negra: la cerca per aconseguir l'immortalitat. Encara que sacrifiquen una bona part d'ells mateixos en el renaixement, aconsegueixen evitar allò que més por dona de la mort, doncs conserven la ment i el seu esperit, però el cos potser es perda amb el pas del temps.

El que no es coneix, excepte potser en les cercles més interns de la nigromància, és si la vida és prolongada indefinidament o simplement ampliada. Pèro és clar que la sola consideració de tal cosa confirma la magnitut del poder que ja han arribat a posseir.

Notes especials: This unit has magical attacks, which always have a high chance of hitting an opponent. Durant la batalla, esta unitat pot drenar vida de les seues víctimes per recuperar la seua. L'atac arcà d'esta unitat causa un mal enorme contra criatures màgiques, i fins i tot també contra certes unitats vivents. Esta unitat es pot moure sense ser vista per aigües profundes, ja que no requerix aire de la superfície.
Information
| | |
| --- | --- |
| Avança de: | Fetiller obscur |
| Avança a: | |
| Cost: | 50 |
| HP: | 60 |
| Moviment: | 6 |
| XP: | 150 |
| Level: | 3 |
| Alineació: | caòtic |
| ID | Lich |
| Habilitats: | submersió |
Atacs (damage - count)
toc
melé
8 - 3
arcà
drenador
tempesta de fred
distància
12 - 3
fred
màgic
onada de foscor
distància
9 - 3
arcà
màgic
Resistències
talla
10%
perfora
30%
impacta
-10%
foc
-20%
fred
60%
arcà
-40%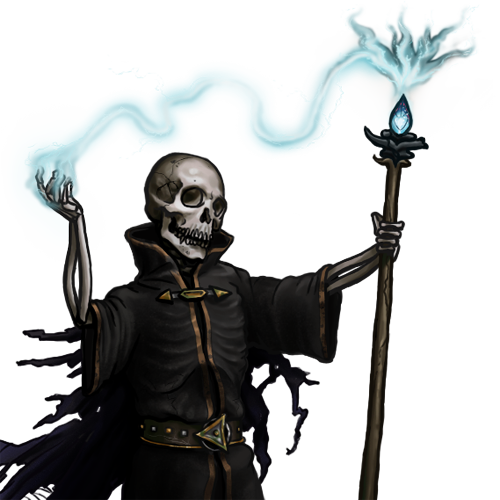 Terreny
Cost del moviment
Terreny
Defensa
Aigua baixa
3
20%
Bosc
2
50%
Boscatge de bolets
2
60%
Castell
1
60%
Cova
2
40%
Deep Water
3
10%
Gelat
2
30%
Impracticable
-
0%
Llogaret
1
60%
Muntanyes
3
60%
Pantà
2
30%
Plana
1
40%
Sorra
2
30%
Trieu costaner
2
30%
Turons
2
50%