Liche

A lich is the physical embodiment of black magic's first goal: the quest to achieve immortality. Though a great deal is sacrificed in the rebirth, in becoming a lich one cheats death of that which truly gives it terror. For it is the mind that is retained, and the spirit which follows, though the body may wither away.

It is not known, save perhaps by the inner circles of necromancy, whether life is prolonged indefinitely or simply extended. But the fact that this question can be raised at all, testifies to the magnitude of what their order has achieved.

Notas especiales: La unidad tiene ataques mágicos, que siempre tienen una alta probabilidad de golpear a un oponente. Durante la batalla, esta unidad puede drenar vida de sus víctimas para renovar su propia salud. El ataque arcano de esta unidad inflige un tremendo daño a los no muertos y algo de daño a las criaturas vivas. Esta unidad puede moverse sin ser vista en aguas profundas, sin necesitar aire de la superficie.
Information
| | |
| --- | --- |
| Procede de: | Hechicero oscuro |
| Se convierte en: | |
| Coste: | 50 |
| PV: | 60 |
| Movimiento: | 6 |
| PX: | 150 |
| Level: | 3 |
| Alineamiento: | caótico |
| ID | Lich |
| Habilidades: | sumergirse |
Ataques (damage - count)
toque
cuerpo a cuerpo
8 - 3
arcano
drena
ola de frío
a distancia
12 - 3
de frío
mágico
onda sombría
a distancia
9 - 3
arcano
mágico
Resistencias
de corte
10%
de penetración
30%
de impacto
-10%
de fuego
-20%
de frío
60%
arcano
-40%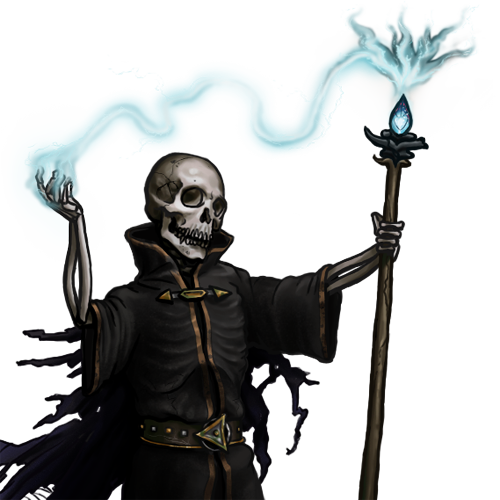 Terreno
Coste de movimiento
Terreno
Defensa
Aguas profundas
3
10%
Aguas someras
3
20%
Aldea
1
60%
Arena
2
30%
Arrecife costero
2
30%
Bosque
2
50%
Campo de setas
2
60%
Castillo
1
60%
Colinas
2
50%
Congelado
2
30%
Cueva
2
40%
Intransitable
-
0%
Llano
1
40%
Montañas
3
60%
Pantano
2
30%