Lich

Un lich és l'encarnació física del primer objectiu de la màgia negra: la busca per a conseguir l'immortalitat. Encara que se sacrifiquen una bona part d'ells mateixos en el renaiximent, conseguixen enganyar a la mort. Conserven la ment i el seu esperit, pero el cos el perden per a sempre.

Lo que no es coneix, excepte potser en les círculs més interns de la nigromància, és si la vida se prolonga indefinidament o simplement s'amplia. Pero està clar que la sola consideració de tal cosa confirma la magnitut del poder que ya han aplegat a tindre.

Notes especials: This unit has magical attacks, which always have a high chance of hitting an opponent. Durant la batalla, esta unitat pot drenar vida de les seues víctimes per recuperar la seua. L'atac arcà d'esta unitat infligix un trement dany a criatures màgiques, i inclús un poc de dany a les criatures vives. Esta unitat pot moure's sense ser vista en aigües fondes, sense necessitar aire de la superficie.
Information
| | |
| --- | --- |
| Alvança de: | Enchiser obscur |
| Alvança a: | |
| Cost: | 50 |
| PV: | 60 |
| Moviment: | 6 |
| PE: | 150 |
| Level: | 3 |
| Alineació: | caòtic |
| ID | Lich |
| Habilitats: | sumergir |
Atacs (damage - count)
toc
melé
8 - 3
arcà
drena
tempesta de fret
distància
12 - 3
fret
màgic
onada d'obscuritat
distància
9 - 3
arcà
màgic
Resistències
talla
10%
perfora
30%
impactar
-10%
foc
-20%
fret
60%
arcà
-40%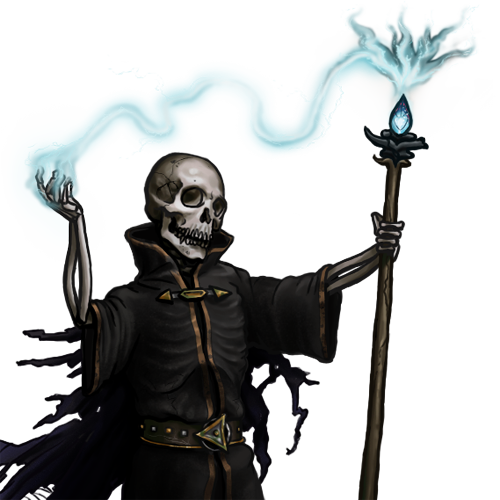 Terreny
Cost de moviment
Terreny
Defensa
Aigües someres
3
20%
Aldea
1
60%
Arena
2
30%
Bosc
2
50%
Camp de bolets
2
60%
Castell
1
60%
Coastal Reef
2
30%
Cova
2
40%
Deep Water
3
10%
Flat
1
40%
Frozen
2
30%
Montanyes
3
60%
Pantà
2
30%
Tossals
2
50%
Unwalkable
-
0%