Llançador de javalina

Estos soldats casi sempre van equipats ab unes quantes javalines per a hostilisar sino matar als enemics des de la distància. Alguns, no obstant, tenen un talent natural i es defenen prou be en el cos a cos. Els llançadors de javalina són valiosos en qualsevol eixèrcit ya que complementen molt be la lluita melé ab els atacs de llarc alcanç. Poden llançar les seues javalines a les files enemigues a distància, freqüentment sense rebre contraatac, i poden mantindre la seua posició en el combat de melé.

Notes especials: La llongitut de l'arma d'esta unitat li permet atacar primer en melé, inclús quan defèn.
Information
| | |
| --- | --- |
| Alvança de: | Soldat |
| Alvança a: | |
| Cost: | 25 |
| PV: | 48 |
| Moviment: | 5 |
| PE: | 100 |
| Level: | 2 |
| Alineació: | llegal |
| ID | Javelineer |
| Habilitats: | |
Atacs (damage - count)
llança
melé
8 - 3
perfora
primer atac
javalina
distància
11 - 2
perfora
Resistències
talla
0%
perfora
40%
impactar
0%
foc
0%
fret
0%
arcà
20%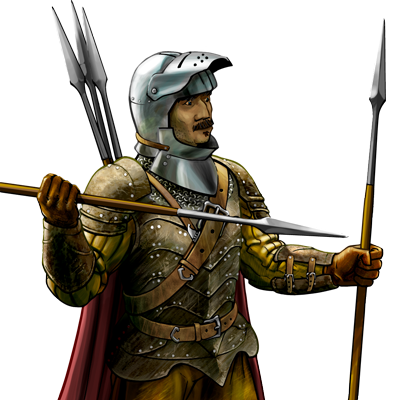 Terreny
Cost de moviment
Terreny
Defensa
Aigües someres
3
20%
Aldea
1
60%
Arena
2
30%
Bosc
2
50%
Camp de bolets
2
50%
Castell
1
60%
Coastal Reef
2
30%
Cova
2
40%
Deep Water
-
0%
Flat
1
40%
Frozen
3
20%
Montanyes
3
60%
Pantà
3
20%
Tossals
2
50%
Unwalkable
-
0%