Paladijn

Paladijnen zijn ridders met de hoogste idealen die gezworen hebben hun sterkte niet voor de koning maar voor de idealen van ridderlijkheid te gebruiken, in dienst van al wat goed is. Ze kunnen in de legers van Wesnoth dienst doen maar hun loyauteit ligt vooral bij hun eigen groep: een geheime kloosterlijke orde die over zowel de politieke als culturele grenzen reikt. Heersers mistrouwen hun soms want de paldins blijven enkel loyaal zolang de heerser deugdzaam blijft. Hierdoor hebben enkele van de meer genadeloos ambitieuze van hem geprobeerd deze groepen uit elkaar te halen en van hun roem te beroven of in zeldzamere gevallen complexe misleidingen op touw gezet om deze troepen aan hun kant te houden.

Paladijnen zijn typisch niet zo schrikwekkend als de grootofficieren die de meeste legers voorgaan maar ze zijn wel degelijk eerste klas krijgers. En bovendien laat hun wijsheid en vroomheid hun toe om hun medekrijgers met verzorging bijstaan. Ze zijn ook zeer krachtig in het bestrijden van magische of onnatuurlijke vijanden.

Bijzonderheden: Door een aanval in een stormloop uit te voeren worden zowel toegebrachte als ontvangen schade verdubbeld; het heeft geen effect op de verdediging. De mysterieuze aanval van deze eenheid brengt zware verwondingen toe aan ondoden, maar ook levenden zijn niet veilig. Deze eenheid kan fundamentele verpleging toepassen.
Information
| | |
| --- | --- |
| Promoveert van: | Ridder |
| Promoveert tot: | |
| Prijs: | 58 |
| HP: | 65 |
| Zetten: | 8 |
| XP: | 150 |
| Level: | 3 |
| Alliantie: | gezagsgetrouw |
| ID | Paladin |
| Vermogens: | verpleegt +4 |
Aanvallen (damage - count)
zwaard
dichtbij
8 - 5
mysterieus
lans
dichtbij
15 - 2
puntig
stormloop
Weerstanden
scherp
20%
puntig
-20%
stomp
30%
vuur
0%
koud
0%
mysterieus
60%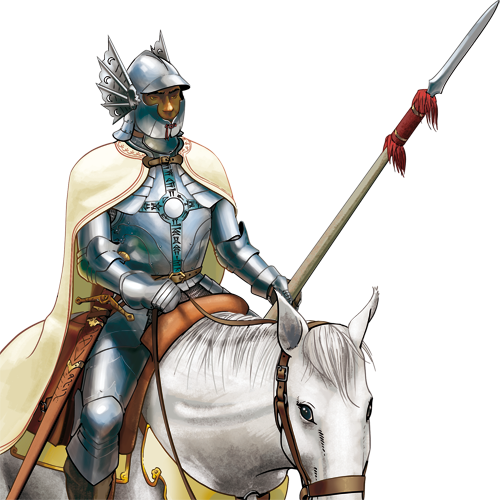 Terrein
Zetten
Terrein
Verdediging
Bergen
-
0%
Bevroren
2
30%
Bos
3
30%
Diep Water
-
0%
Dorp
1
40%
Grot
4
20%
Heuvels
2
40%
Kasteel
1
40%
Kustrif
3
30%
Moeras
4
20%
Onbegaanbaar
-
0%
Ondiep Water
4
20%
Paddenstoelenveld
4
20%
Vlak
1
40%
Zand
2
30%