Faileas

When light came into the world and gave form to the unknown, fear was forced to retreat into darkness. Since that day, the shadows of the world have held terror for humanity, though it knows not why.

That is a question which is easily answered by a necromancer.

Aire sònraichte: Ma tha nàmhaid an amais an taobh mu choinneamh an amais nuair a bheir an t-aonad seo ionnsaigh, faodaidh an t-aonad seo cùl-shàthadh a dhèanamh is dochann dùbailte adhbharachadh a' snàgadh gu cùlaibh an nàmhad aige. Tha comas-seasaimh neo-àbhaisteach aig spioradan an aghaidh dochainn is gluaisidh iad gu slaodach thar uisgeachan fosgailte. 'S urrainn dhan aonad seo falach air an oidhche gun lorgan air. Tha an t-aonad seo eòlach air streupaireachd is faodaidh e raon-smachd a nàimhdean fhàgail don dàrna taobh is gluasad mu thimcheall orra gun bhacadh.
Information
| | |
| --- | --- |
| Àrdaichidh e bho: | Taibhse |
| Àrdaichidh e gu: | Dùbhradh |
| Cosgais: | 38 |
| PB: | 24 |
| Gluasad: | 7 |
| PE: | 100 |
| Level: | 2 |
| Co-thaobhadh: | coimeasgach |
| ID | Shadow |
| Comasan: | stalc-oidhche, streupaire |
Ionnsaighean (damage - count)
spògan
dlùth
8 - 3
lann
cùl-shàthadh
Comasan-seasaimh
lann
50%
bioradh
50%
bualadh
50%
teine
10%
fuachd
70%
dìomhair
-10%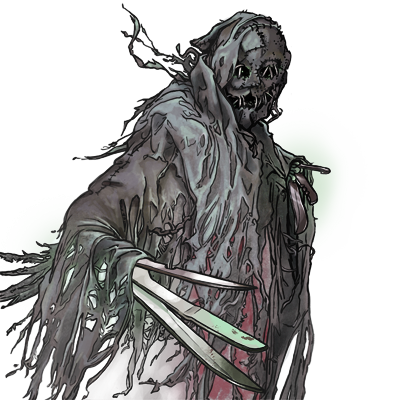 Cruth-tìre
Cosgais ghluasaid
Cruth-tìre
Dìon
Badan balgain-bhuachair
1
50%
Baile
1
50%
Beanntan
1
50%
Boglach
1
50%
Caisteal
1
50%
Cnuic
1
50%
Coille
1
50%
Do-choiseach
1
50%
Gaineamh
1
50%
Reòite
1
50%
Riof cladaich
2
50%
Rèidh
1
50%
Tanalach
2
50%
Uamh
1
50%
Uisge domhain
2
50%