Skugga

When light came into the world and gave form to the unknown, fear was forced to retreat into darkness. Since that day, the shadows of the world have held terror for humanity, though it knows not why.

That is a question which is easily answered by a necromancer.

Speciella noteringar:Om det är en fiende till målet på motstående sida av målet under en attack kan denna trupp göra ett rygghugg som orsakar dubbel skada genom att krypa run bakom den fienden. Andar har ovanligt hög motståndkraft mot skador, men rör sig långsamt över öppen vatten. Denna trupp har förmågan att gömma sig i mörkret nattetid, utan något som helst tecken på sin existens. Denna trupp är stigfinnare och ignorerar således fiendens kontrollzoner.
Information
| | |
| --- | --- |
| Befordras från: | Spöke |
| Kan befordras till: | Blekman |
| Kostnad: | 38 |
| HP: | 24 |
| Förflyttning: | 7 |
| EP: | 100 |
| Level: | 2 |
| Sinnelag: | ljusskygg |
| ID | Shadow |
| Förmågor: | skuggsteg, stigfinnare |
Attacker (damage - count)
klor
närstrid
8 - 3
hugg
rygghugg
Motståndskraft
hugg
50%
stick
50%
kross
50%
eld
10%
frost
70%
ockult
-10%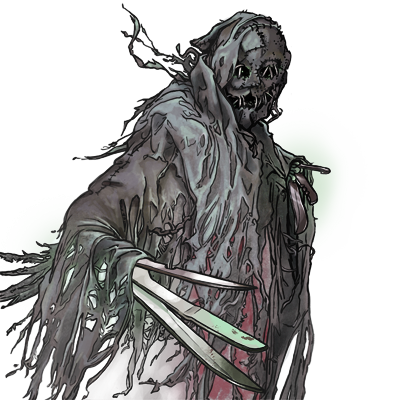 Terräng
Förflyttningskostnad
Terräng
Försvar
Berg
1
50%
Borg
1
50%
By
1
50%
Djupt vatten
2
50%
Frusen
1
50%
Grotta
1
50%
Grunt vatten
2
50%
Kullar
1
50%
Kustrev
2
50%
Ofarbar
1
50%
Plan
1
50%
Sand
1
50%
Skog
1
50%
Svampdunge
1
50%
Träsk
1
50%