Paladyn

Paladyni są rycerzami najwyższej cnoty, którzy poprzysięgli wierność nie królowi i koronie, lecz ideałom rycerskim i pieczy nad wszystkim, co dobre. Choć służą w wielu armiach różnych królestw, w pierwszej kolejności są najczęściej lojalni własnym bractwom - tajemnym zakonom klasztornym, które sięgają ponad granicami politycznymi i kulturowymi. Władcy są często wobec nich nieufni, gdyż lojalność paladyna bywa tylko tak trwała, jak rzekoma cnotliwość suwerena. Co bardziej ambitni i bezwzględni władcy podejmują niekiedy próby skompromitowania lub skłócenia tajemnych bractw lub - co jest rzadziej praktykowane - knują misterne intrygi mające ma celu utrzymanie tych niezłomnie lojalnych żołnierzy w swojej służbie.

Paladyni nie są na ogół aż tak potężni, jak prowadzący większość armii wielcy rycerze, lecz mimo to są doskonałymi żołnierzami. Co więcej, z racji swej mądrości i pobożności, ci rycerze-mnisi posiadają niezwykłe zdolności walki ze stworzeniami magicznymi i nadprzyrodzonymi, a większość potrafi również opatrzyć rany towarzyszy broni.

Uwagi specjalne: Atak szarżą podwaja zadawane i otrzymywane obrażenia. Nie odnosi się to do obrony. Astralny atak tej jednostki zadaje ogromne obrażenia nieumarłym, a skromniejsze istotom żyjącym. Jednostka posiada umiejętności leczenia.
Information
| | |
| --- | --- |
| Awansuje z: | Rycerz |
| Awansuje na: | |
| Koszt: | 58 |
| PŻ: | 65 |
| Ruchy: | 8 |
| PD: | 150 |
| Level: | 3 |
| Charakter: | praworządny |
| ID | Paladin |
| Zdolności: | leczy +4 |
Ataki (damage - count)
miecz
wręcz
8 - 5
astralny
lanca
wręcz
15 - 2
kłująca
szarża
Odporności
sieczna
20%
kłująca
-20%
obuchowa
30%
ogień
0%
chłód
0%
astralny
60%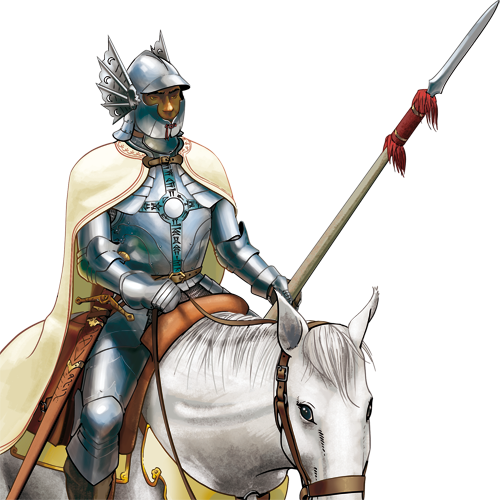 Teren
Koszt ruchu
Teren
Obrona
Bagno
4
20%
Grzybowy gaj
4
20%
Góry
-
0%
Głęboka woda
-
0%
Jaskinia
4
20%
Las
3
30%
Nie do przejścia
-
0%
Piasek
2
30%
Płaski
1
40%
Płytka woda
4
20%
Rafa
3
30%
Wioska
1
40%
Wzgórza
2
40%
Zamarznięty
2
30%
Zamek
1
40%