Tempelridder

Som riddere av høyeste eksellense, så sverger ikke Tempelridderne sin styrke til konge og fedreland, men til deres egne idealer; som ridderlighet, og hjelpe alt som er godt. De kan riktignok tjenestegjøre i hærer rundt omkring i verden, men de oftest først og fremst lojal mot det gruppen deres står for; hemmeligholdte, munk-ordener som trosser politiske og kulturelle grenser. Herskere er noen ganger redde for angrep fra dem, fordi Tempelriddernes lojalitet er ekstremt sterkt. Dette har ført til mer onde ambisjoner om å enten forsøke å ødelegge deres gode rykte og få gruppene til å følge deres ambisjoner istedet, eller enda sjeldnere, å bruke lure triks for å overtale dem til å tro på usanne påstander for å få de ellers lojale troppene i arbeid.

Tempelriddere er som regel ikke fullt så fryktelige som 'Storridderne' som er mesterne blandt de fleste hærer, men de er alikevel førsteklasses kjempere. I tilegg gir disse krigerske monkenes visdom og respekt en sikker evne; en Temperidder er veldig kraftig i kamp mot magiske og unaturlige ting, og de fleste har evner innen medisin og kan gi helse tilbake.

Special Notes: Stormangrep dobler skaden når du angriper, både for angripende og forsvarende enhet. Skaden dobles derimot ikke når enheten med stormangrep forsvarer seg. This unit's arcane attack deals tremendous damage to magical creatures, and even some to mundane creatures. This unit is capable of basic healing.
Information
| | |
| --- | --- |
| Advances from: | Ridder |
| Forfremmes til: | |
| Kostnad: | 58 |
| HP: | 65 |
| Forflytning: | 8 |
| XP: | 150 |
| Level: | 3 |
| Sinnelag: | hederlig |
| ID | Paladin |
| Egenskaper: | helbreder 4 |
Attacks (damage - count)
sverd
nærkamp
8 - 5
arkan
lanse
nærkamp
15 - 2
stikk
stormangrep
Resistances
hugg
20%
stikk
-20%
slag
30%
ild
0%
frost
0%
arkan
60%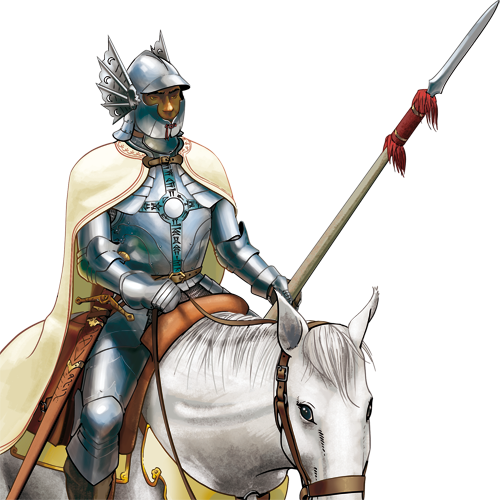 Terreng
Forflytningskostnad
Terreng
Forsvar
Borg
1
40%
Deep Water
-
0%
Fjell
-
0%
Flate
1
40%
Frossen
2
30%
Grotte
4
20%
Grundt vann
4
20%
Kystrev
3
30%
Landsby
1
40%
Sand
2
30%
Skog
3
30%
Soppvokst grotte
4
20%
Sump
4
20%
Utilgjenglig
-
0%
Åser
2
40%