Paladin

Paladinové jsou nejoddanější z rytířů, kteří nezasvětili své zbraně službě králi a koruně, nýbrž samotným ideálům - rytířskosti a službě všemu, co je dobré. Neslouží ve světských armádách; spíše se organizují podle vlastní vůle, obvykle do tajných mnišských řádů, které se nacházejí na pomezí politických a kulturních hranic. Vládce to částečně zneklidňuje - věrnost paladinů závisí na jejich ctnosti, což nemusí být tak snadno dosažitelná hodnota. Vladaři, jejichž mysl se ubírá temnějšími cestičkami, se nezřídka pokoušejí jejich řady ponížit a rozmělnit, ve zřídkavějších případech pak vymýšlejí různé lsti, aby si uchovali jejich pevnou oddanost.

Paladinové nejsou tak strašlivými válečníky jako velcí rytíři, elitní jednotky mnoha armád, stále však náleží mezi prvotřídní bojovníky. Jejich moudrost a ctnost jim také propůjčuje určité podivuhodné schopnosti: paladinové mají velkou moc v boji proti magickým a nepřirozeným tvorům a většina také ovládá léčení.

Zvláštní rysy: Útok výpadem zdvojnásobuje velikost poškození rozdaného, tak přijatého. To se nevztahuje na defenzivní protivýpady. Nezemský útok této jednotky působí zničující zranění jak nemrtvým, tak také některým živým stvořením. Tato jednotka je schopna základní léčby.
Information
| | |
| --- | --- |
| Povyšuje z: | Rytíř |
| Povyšuje na: | |
| Cena: | 58 |
| životů: | 65 |
| Pohyby: | 8 |
| zkušeností: | 150 |
| Level: | 3 |
| Příslušnost: | zákonná |
| ID | Paladin |
| Schopnosti: | ošetření |
Útoky (damage - count)
meč
zblízka
8 - 5
nezemský
dřevec
zblízka
15 - 2
bodnutí
výpad
Odolnosti
čepel
20%
bodnutí
-20%
úder
30%
oheň
0%
chlad
0%
nezemský
60%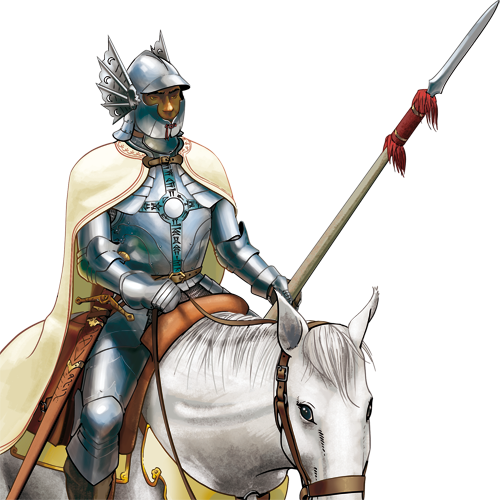 Terén
Bodů pohybu
Terén
Obrana
Hluboká voda
-
0%
Hory
-
0%
Houby, háj
4
20%
Hrad
1
40%
Jeskyně
4
20%
Kopce
2
40%
Les
3
30%
Mokřina
4
20%
Mělká voda
4
20%
Neschůdný
-
0%
Plochý
1
40%
Pobřežní útes
3
30%
Písek
2
30%
Vesnice
1
40%
Zmrzlý
2
30%