Ghul

Only the more perverse and sadistic of necromancers know what must be done to turn a person into a ghoul, and it is a secret they are not telling. The result, however, is all too well known; it is a beast that knows nothing of its days as a human being, a creature that shambles about as naked as the day it was born, and gorges itself on the flesh of the dead.

It is because of such things that necromancy is condemned with an almost primal hatred in all civilized lands.

Speciella noteringar: De som förgiftas av denna trupp försvagas gradvis tills de kan botas i en by eller av en trupp som kan bota.
Information
| | |
| --- | --- |
| Befordras från: | |
| Kan befordras till: | Nekrofag |
| Kostnad: | 16 |
| HP: | 33 |
| Förflyttning: | 5 |
| EP: | 35 |
| Level: | 1 |
| Sinnelag: | ljusskygg |
| ID | Ghoul |
| Förmågor: | |
Attacker (damage - count)
klor
närstrid
4 - 3
hugg
gift
Motståndskraft
hugg
10%
stick
30%
kross
0%
eld
10%
frost
40%
ockult
20%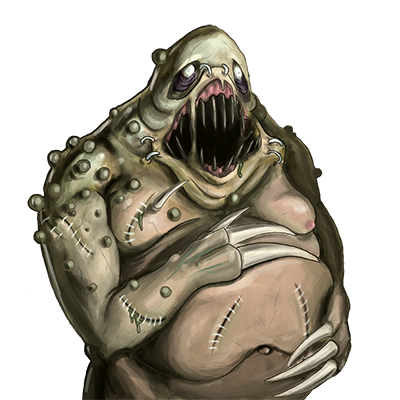 Terräng
Förflyttningskostnad
Terräng
Försvar
Berg
3
60%
Borg
1
60%
By
1
60%
Djupt vatten
-
0%
Frusen
2
30%
Grotta
2
40%
Grunt vatten
3
20%
Kullar
2
50%
Kustrev
2
30%
Ofarbar
-
0%
Plan
1
40%
Sand
2
30%
Skog
2
50%
Svampdunge
2
60%
Träsk
2
30%