Elf Büyücü Kız

Perilerin dünyası fiziksel dünyadan çok daha etkileyicidir. Birilerini dikkatsizce bu dünyadan bizimkine getirmenin bazı istenmeyen sonuçları olabilir. Bu elflerce iyi bilindiğinden kötü niyetle kasıtlı kullanımı pek nadirdir. Bunu doğru amaçlar için yapmak kolay değildir ve güçleri çok saygısızca kullanılabilir.

Diğer ırklar tarafından kabaca 'Büyücü Kız' olarak anılmaları bu çıkarımın sonucudur ve bunlar düşünüldüğü gibi davranmaya kesinlikle muktedirdir.

Özel Bilgiler: This unit has magical attacks, which always have a high chance of hitting an opponent. Bu birim düşmanlarını yavaşlatabilir, hızları ve saldırı güçleri bir el boyunca yarıya düşer. Bu birimin gizemli saldırısı yarı ölülere ve hatta bazı yaratıklara karşı çok büyük hasarlar verir.
Information
| | |
| --- | --- |
| Şundan terfi eder: | Elf Şaman |
| Şuna terfi eder: | Elf Büyücü Hanım |
| Bedel: | 34 |
| YP: | 41 |
| Hareket: | 5 |
| TP: | 100 |
| Level: | 2 |
| Hizalama: | tarafsız |
| ID | Elvish Sorceress |
| Yetenekler: | |
Saldırılar (damage - count)
asa
yakın
4 - 2
darbe
dolaştırma
menzilli
4 - 3
darbe
yavaşlatır
peri ateşi
menzilli
7 - 4
gizemli
sihirli
Dirençler
kesme
0%
delme
0%
darbe
0%
ateş
0%
soğuk
0%
gizemli
0%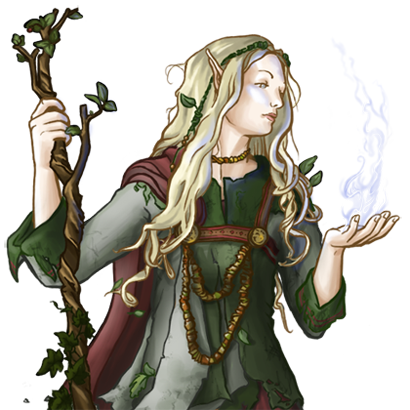 Arazi
Hareket Bedeli
Arazi
Savunma
Bataklık
2
30%
Dağlar
3
60%
Deep Water
-
0%
Kale
1
60%
Kar
2
30%
Kayalık Sahil
2
30%
Kum
2
30%
Köy
1
60%
Mantar Korusu
2
50%
Mağara
3
30%
Orman
1
70%
Sığ Su
3
20%
Tepeler
2
50%
Yürünmez
-
0%
Çayır
1
40%