moren-sirena

Vilinska priroda morejki najjača je u sirena, čija povezanost sa magijskim strujama čini da često budu zamenjene za same najade. Iako je to zasigurno daleko od zbilje, pogreška je razumljiva, jer čak i morejke retko viđaju prave najade. Pojavni oblik njihove magije je takođe vrlo sličan; sirene mogu komandovati vodom oko sebe kako im se prohte, kao da je produžetak njih samih.

Brojnost mogućih primena ovoga retko pada na um žiteljima kopna, koji na to gledaju prostodušnom radoznalošću.

Posebne napomene: Ova jedinica poseduje magične napade, kojima su uvek dobri izgledi da pogode protivnika.
Information
| | |
| --- | --- |
| napreduje iz: | moren-opsenarka |
| može postati: | |
| košta: | 52 |
| UP: | 49 |
| Kretanje: | 7 |
| IP: | 150 |
| Level: | 3 |
| poredak: | zakonit |
| ID | Mermaid Siren |
| sposobnosti: | |
Napadi (damage - count)
najski dodir
bliski
12 - 1
udar
magičnost
vodeni pljusak
odstupni
15 - 3
udar
magičnost
otpornosti
sečivo
0%
proboj
0%
udar
0%
vatra
0%
mraz
20%
volšebni
0%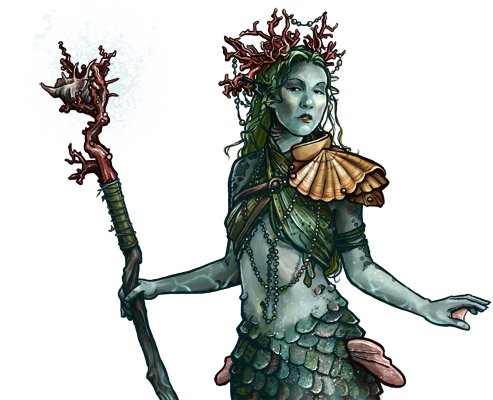 teren
trošak kretanja
teren
odbrana
brda
5
30%
duboka voda
1
50%
gljivarski gaj
3
20%
klizavica
2
30%
močvara
1
60%
obalski greben
2
70%
pesak
2
30%
pećina
3
20%
planine
-
0%
plitka voda
1
60%
rascep
-
0%
ravnica
2
30%
selo
1
40%
zamak
1
40%
šuma
5
30%