Siréna

Magická povaha morských panien je najviac viditeľná medzi sirénami, dokonca vďaka svojej podobnosti si ich mnohí mýlia s najádami, morskými vílami. Toto je ale nedorozumenie, keďže skutočné najády nestretávajú ani samotní morskí ľudia. Každopádne sú magické schopnosti týchto bytostí podobné: siréna dokáže ovládať vodu okolo seba, akoby to bola účasť jej tela.

Takáto schopnosť má mnoho praktických použití, ale suchozemci to jednoducho vnímajú ako zázrak.

Poznámky: Útoky tejto jednotky sú magické, preto majú vždy veľkú šancu zasiahnuť súpera.
Information
| | |
| --- | --- |
| Povýšený z: | Morská zaklínačka |
| Povýši sa na: | |
| Cena: | 52 |
| Životy: | 49 |
| Pohyb: | 7 |
| Skúsenosti: | 150 |
| Level: | 3 |
| Príslušnosť: | poriadok |
| ID | Mermaid Siren |
| Schopnosti: | |
Útoky (damage - count)
dotyk najády
zblízka
12 - 1
tupý
magický
spŕška vody
na diaľku
15 - 3
tupý
magický
Odolnosti
sečný
0%
bodný
0%
tupý
0%
oheň
0%
mráz
20%
mystický
0%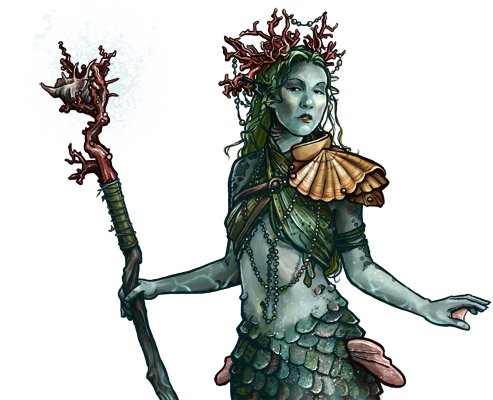 Terén
Cena pohybu
Terén
Obrana
Dedina
1
40%
Hlboká voda
1
50%
Hory
-
0%
Hrad
1
40%
Hubový porast
3
20%
Jaskyňa
3
20%
Kopce
5
30%
Les
5
30%
Močiar
1
60%
Nepriechodné
-
0%
Piesok
2
30%
Plytká voda
1
60%
Pobrežný útes
2
70%
Rovina
2
30%
Zamrznuté
2
30%