Elfská čarodejnica

Svet víl je omnoho mocnejší než náš, fyzický svet. Stačí len malý kúsok schopností z iného sveta a môže to mať nesmierne ničivé následky na náš, fyzický svet. Elfovia to už dávno pochopili, aj keď málokedy v skutočnosti využili. Samotný akt preklenutia svetov nie je jednoduchý a využitie tejto sily so zlým úmyslom je považované za zneužitie moci.

Bytosti, ktoré tento akt zvládajú, bývajú inými rasami označované za čarodejnice, čo je možno prehnané meno, ale zato dobre vystihujúce ich možnosti a schopnosti.

Poznámky: Útoky tejto jednotky sú magické, preto majú vždy veľkú šancu zasiahnuť súpera. Táto jednotka dokáže spomaliť svojich nepriateľov, zmenší ich rýchlosť pohybu a spôsobené zranenie na polovicu, až kým neukončia ťah. Mystický útok tejto jednotky spôsobuje obrovské zranenia magickým bytostiam, a nejaké aj obyčajným.
Information
| | |
| --- | --- |
| Povýšený z: | Elfská šamanka |
| Povýši sa na: | Elfská zaklínačka |
| Cena: | 34 |
| Životy: | 41 |
| Pohyb: | 5 |
| Skúsenosti: | 100 |
| Level: | 2 |
| Príslušnosť: | neutrál |
| ID | Elvish Sorceress |
| Schopnosti: | |
Útoky (damage - count)
bojová palica
zblízka
4 - 2
tupý
zamotanie
na diaľku
4 - 3
tupý
spomaľuje
magický oheň
na diaľku
7 - 4
mystický
magický
Odolnosti
sečný
0%
bodný
0%
tupý
0%
oheň
0%
mráz
0%
mystický
0%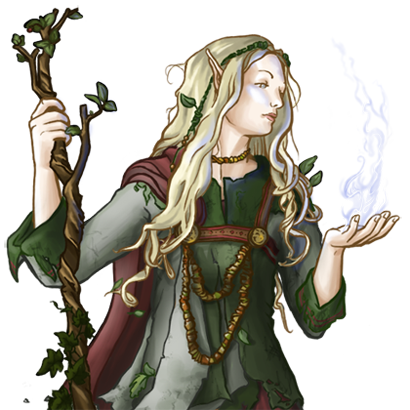 Terén
Cena pohybu
Terén
Obrana
Dedina
1
60%
Hlboká voda
-
0%
Hory
3
60%
Hrad
1
60%
Hubový porast
2
50%
Jaskyňa
3
30%
Kopce
2
50%
Les
1
70%
Močiar
2
30%
Nepriechodné
-
0%
Piesok
2
30%
Plytká voda
3
20%
Pobrežný útes
2
30%
Rovina
1
40%
Zamrznuté
2
30%