Gran Drac de fòc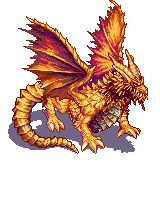 Un drac és una criatura llegendària que generalment només apareix en les històries més fantàstiques. Són molt estranys i, si no fora per tots els acontenyiments històrics en els que han participat (com ara destruir ciutats sanceres individualment), podrien ser considerats un simple mit. Les llegendes són prou concretes sobre la destrucció que produïxen els dracs, destaquen la seua descomunal força, velocitat, sobrenatural astúcia i, per damunt de tot, els gran fòc que habita dins d'ells.

Lluitar contra un drac es considera el major perill existent, només apte per als més necis - o els més braus.

Notes especials: L'habilitat de tirador d'esta unitat li dóna una gran provabilitat d'encertar els seus enemics, pero només en l'atac. The leadership of this unit enables adjacent units of the same side to deal more damage in combat, though this only applies to units of lower level.
Information
| | |
| --- | --- |
| Alvança de: | |
| Alvança a: | |
| Cost: | 100 |
| PV: | 101 |
| Moviment: | 8 |
| PE: | 250 |
| Level: | 5 |
| Alineació: | caòtic |
| ID | Fire Dragon |
| Habilitats: | liderage |
Atacs (damage - count)
mòs
melé
21 - 2
talla
coa
melé
24 - 1
impactar
alé de foc
distància
14 - 4
foc
tirador
Resistències
talla
10%
perfora
-10%
impactar
20%
foc
100%
fret
-50%
arcà
-30%
Terreny
Cost de moviment
Terreny
Defensa
Aigües someres
1
20%
Aldea
1
40%
Arena
1
40%
Bosc
1
40%
Camp de bolets
2
40%
Castell
1
40%
Coastal Reef
1
30%
Cova
3
30%
Deep Water
2
20%
Flat
1
30%
Frozen
2
20%
Montanyes
1
40%
Pantà
1
30%
Tossals
1
40%
Unwalkable
1
40%