Enchisera elfa

El món de les fades és prou més potent que el món material, i transportar senzillament una chicoteta part d'este món al nostre pot tindre resultats violents. Els elfs entenen molt bé este principi, encara que no solen aprofitar-se d'ell; fer-ho comporta una gran dificultat, i és un us gens ben vist d'estes forces.

Les atres races nomenen enchiseres a les elfes que ho poden fer, i ausades són capaces d'actuar com a tals.

Notes especials: This unit has magical attacks, which always have a high chance of hitting an opponent. Esta unitat és capaç de retardar als seus enemics, reduint a la mitat la seua velocitat de moviment i dany d'atac fins que acabe la tanda. L'atac arcà d'esta unitat infligix un trement dany a criatures màgiques, i inclús un poc de dany a les criatures vives.
Information
| | |
| --- | --- |
| Alvança de: | Chaman elfa |
| Alvança a: | Enchisadora elfa |
| Cost: | 34 |
| PV: | 41 |
| Moviment: | 5 |
| PE: | 100 |
| Level: | 2 |
| Alineació: | neutral |
| ID | Elvish Sorceress |
| Habilitats: | |
Atacs (damage - count)
bastó
melé
4 - 2
impactar
enredrar
distància
4 - 3
impactar
retardar
fòc de fada
distància
7 - 4
arcà
màgic
Resistències
talla
0%
perfora
0%
impactar
0%
foc
0%
fret
0%
arcà
0%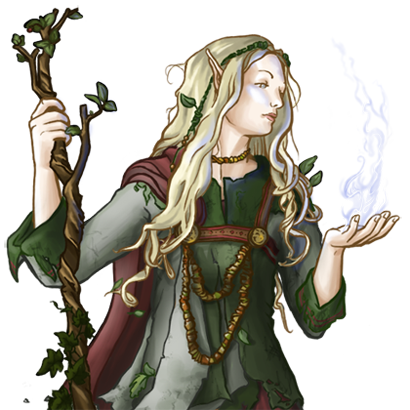 Terreny
Cost de moviment
Terreny
Defensa
Aigües someres
3
20%
Aldea
1
60%
Arena
2
30%
Bosc
1
70%
Camp de bolets
2
50%
Castell
1
60%
Coastal Reef
2
30%
Cova
3
30%
Deep Water
-
0%
Flat
1
40%
Frozen
2
30%
Montanyes
3
60%
Pantà
2
30%
Tossals
2
50%
Unwalkable
-
0%