Ognisty smok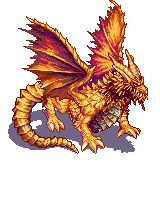 Smoki to legendarne stworzenia, najczęściej spotykane tylko w baśniach i legendach. Gdyby nie przekazy historyczne odnotowujące dokonanie przez smoki zniszczenia, istnienie tych istot można by uznać za wymysł wybujałej wyobraźni. Jeden smok potrafi zrównać z ziemią całe miasto, a wszystkie legendy mówią o wielkiej sile, szybkości i sprycie smoków, a przede wszystkim o potężnym ogniu, który płonie w ich wnętrznościach.

Walka ze smokiem jest zadaniem skrajnie niebezpiecznym, które mógłby się podjąć tylko szaleniec lub szalenie odważny rycerz.

Uwagi specjalne: Umiejętności strzeleckie tej jednostki powodują, że ma ona wysoką szansę trafienia przeciwników, ale tylko podczas ataku. Zdolności przywódcze tej jednostki sprawiają, że znajdujące się obok niej przyjazne jednostki zadają w walce większe obrażenia, choć dotyczy to tylko jednostek niższego poziomu od dowódcy.
Information
| | |
| --- | --- |
| Awansuje z: | |
| Awansuje na: | |
| Koszt: | 100 |
| PŻ: | 101 |
| Ruchy: | 8 |
| PD: | 250 |
| Level: | 5 |
| Charakter: | chaotyczny |
| ID | Fire Dragon |
| Zdolności: | dowodzenie |
Ataki (damage - count)
ugryzienie
wręcz
21 - 2
sieczna
ogon
wręcz
24 - 1
obuchowa
ognisty oddech
na odległość
14 - 4
ogień
strzelec wyborowy
Odporności
sieczna
10%
kłująca
-10%
obuchowa
20%
ogień
100%
chłód
-50%
astralny
-30%
Teren
Koszt ruchu
Teren
Obrona
Bagno
1
30%
Grzybowy gaj
2
40%
Góry
1
40%
Głęboka woda
2
20%
Jaskinia
3
30%
Las
1
40%
Nie do przejścia
1
40%
Piasek
1
40%
Płaski
1
30%
Płytka woda
1
20%
Rafa
1
30%
Wioska
1
40%
Wzgórza
1
40%
Zamarznięty
2
20%
Zamek
1
40%