Elficka czarodziejka

Świat wróżek niesie znacznie większą moc od świata fizycznego. Już samo wprowadzenie cząstki świata magicznego do naszej rzeczywistości może mieć potężne konsekwencje. Elfy dobrze tę możliwość rozumieją, choć rzadko używają jej w walce - zwłaszcza, że uważają to za niegodne wykorzystanie drzemiącej w nich siły.

Elfki posiadające taką umiejętność są przez inne rasy nazywane po prostu 'czarodziejkami' i w pełni na to miano zasługują.

Uwagi specjalne: Jednostka dysponuje atakami magicznymi, które zawsze mają wysoką szansę trafienia przeciwnika. Jednostka potrafi spowalniać przeciwników, zmniejszając o połowę szybkość i zadawane obrażenia do końca ich tury. Astralny atak tej jednostki zadaje ogromne obrażenia nieumarłym, a skromniejsze istotom żyjącym.
Information
Ataki (damage - count)
kostur
wręcz
4 - 2
obuchowa
oplątanie
na odległość
4 - 3
obuchowa
spowalnia
płomień wróżek
na odległość
7 - 4
astralny
magiczny
Odporności
sieczna
0%
kłująca
0%
obuchowa
0%
ogień
0%
chłód
0%
astralny
0%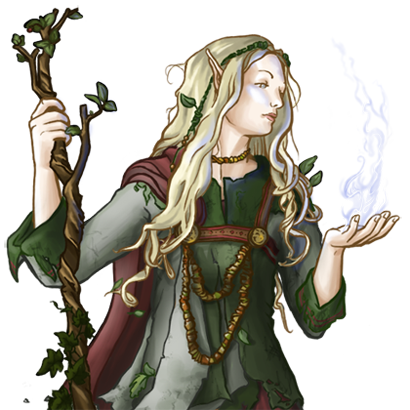 Teren
Koszt ruchu
Teren
Obrona
Bagno
2
30%
Grzybowy gaj
2
50%
Góry
3
60%
Głęboka woda
-
0%
Jaskinia
3
30%
Las
1
70%
Nie do przejścia
-
0%
Piasek
2
30%
Płaski
1
40%
Płytka woda
3
20%
Rafa
2
30%
Wioska
1
60%
Wzgórza
2
50%
Zamarznięty
2
30%
Zamek
1
60%