Smoczy bojownik

Bojownicy stanowią wśród smoków wyjątkową kastę. Choć niezwykle gruby pancerz skutecznie chroni przed groźną dla smoków bronią kłującą, jego rozmiary i ciężar uniemożliwiają bojownikom nie tylko latanie, ale i wzięcie głębokiego wdechu niezbędnego do zionięcia wewnętrznym ogniem. Bojownicy przyjęli jednak to ograniczenie jako swój atrybut i całkowicie chowają skrzydła pod pancerzem, pokazując w ten sposób, że nie potrzebują zdolności latania, by odnieść zwycięstwo.

Jest to jedyna kasta, której wolno wbrew smoczemu tabu dzierżyć w boju włócznie, uzupełniające tradycyjne pazury bojowe. Właśnie dzięki włóczniom bojownicy są szczególnie skuteczni w "rozwiązywaniu" sporów terytorialnych z innymi smokami i pilnowaniu porządku plemiennego.

Uwagi specjalne: Długość broni tej jednostki pozwala jej na zadanie pierwszego ciosu w walce wręcz, nawet podczas obrony.
Information
| | |
| --- | --- |
| Awansuje z: | |
| Awansuje na: | Smoczy młocarz Smoczy strażnik |
| Koszt: | 19 |
| PŻ: | 43 |
| Ruchy: | 5 |
| PD: | 45 |
| Level: | 1 |
| Charakter: | praworządny |
| ID | Drake Clasher |
| Zdolności: | |
Ataki (damage - count)
szpon wojenny
wręcz
5 - 4
sieczna
włócznia
wręcz
6 - 4
kłująca
pierwszy cios
Odporności
sieczna
20%
kłująca
0%
obuchowa
30%
ogień
50%
chłód
-50%
astralny
-30%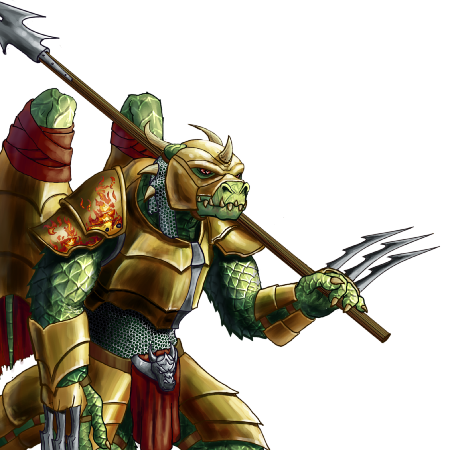 Teren
Koszt ruchu
Teren
Obrona
Bagno
3
20%
Grzybowy gaj
2
40%
Góry
1
40%
Głęboka woda
-
0%
Jaskinia
2
30%
Las
2
40%
Nie do przejścia
-
0%
Piasek
1
40%
Płaski
1
30%
Płytka woda
3
20%
Rafa
2
30%
Wioska
1
40%
Wzgórza
1
40%
Zamarznięty
3
20%
Zamek
1
40%