Meerminsirene

De feeënnatuur van het meervolk manifesteert zich het sterkst in de sirenen. Hun verwantschap met de naia maakt dat ze vaak zelf voor naias worden aangezien. Hoewel ze dat absoluut niet zijn, is de vergissing begrijpelijk, aangezien ware naias zelfs door meerminnen zelden worden gezien. De manifestatie van hun magie is ook gelijkelijk; een sirene kan het water rondom haar bevelen als was het een verlengstuk van haarzelf.

Deze toepassingen van de meerminnen gebeuren zelden tegen landrotten. Het doet hen slechts verrast staan.

Bijzonderheden: This unit has magical attacks, which always have a high chance of hitting an opponent.
Information
| | |
| --- | --- |
| Promoveert van: | Meermintovenares |
| Promoveert tot: | |
| Prijs: | 52 |
| HP: | 49 |
| Zetten: | 7 |
| XP: | 150 |
| Level: | 3 |
| Alliantie: | gezagsgetrouw |
| ID | Mermaid Siren |
| Vermogens: | |
Aanvallen (damage - count)
naiastreel
dichtbij
12 - 1
stomp
magisch
waterstraal
afstand
15 - 3
stomp
magisch
Weerstanden
scherp
0%
puntig
0%
stomp
0%
vuur
0%
koud
20%
mysterieus
0%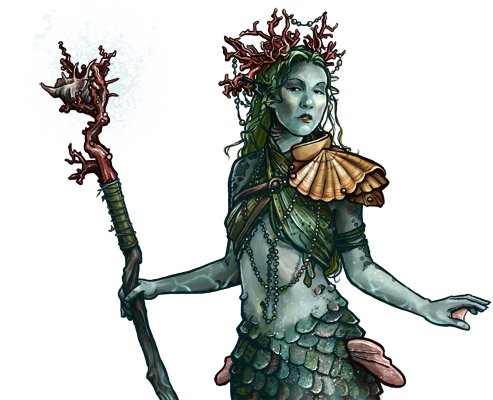 Terrein
Zetten
Terrein
Verdediging
Bergen
-
0%
Bevroren
2
30%
Bos
5
30%
Diep Water
1
50%
Dorp
1
40%
Grot
3
20%
Heuvels
5
30%
Kasteel
1
40%
Kustrif
2
70%
Moeras
1
60%
Onbegaanbaar
-
0%
Ondiep Water
1
60%
Paddenstoelenveld
3
20%
Vlak
2
30%
Zand
2
30%