Meermin

Jonge meerminnen worden vaak geïntroduceerd in de watermagie van hun volk. De wonderbaarlijke mogelijkheden die het biedt, staan geen enkel ander ras ter beschikking. Het is een teken van de feeënkant van deze schepselen.

Ondanks hun fragiliteit maakt dit hen behoorlijk sterk in het gevecht, omdat ze een beroep kunnen doen op het het water zelf om hun vijanden te treffen.

Bijzonderheden: This unit has magical attacks, which always have a high chance of hitting an opponent.
Information
Aanvallen (damage - count)
staf
dichtbij
7 - 1
stomp
waterstraal
afstand
8 - 2
stomp
magisch
Weerstanden
scherp
0%
puntig
0%
stomp
0%
vuur
0%
koud
20%
mysterieus
0%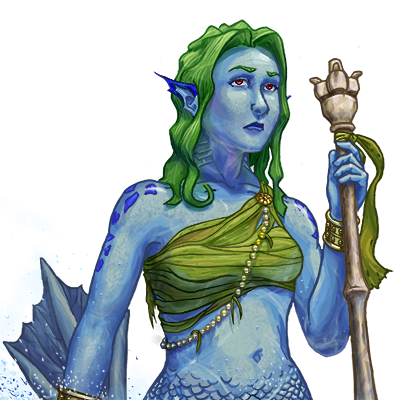 Terrein
Zetten
Terrein
Verdediging
Bergen
-
0%
Bevroren
2
30%
Bos
5
30%
Diep Water
1
50%
Dorp
1
40%
Grot
3
20%
Heuvels
5
30%
Kasteel
1
40%
Kustrif
2
70%
Moeras
1
60%
Onbegaanbaar
-
0%
Ondiep Water
1
60%
Paddenstoelenveld
3
20%
Vlak
2
30%
Zand
2
30%