Elfentovenares

De feeënwereld is veel krachtiger dan de materiële wereld. Sommigen vanuit deze wereld in de onze brengen kan hevige resultaten teweeg brengen. Dit is zeer gekend door de elven, het wordt zelden gebruikt met kwaadaardige bedoelingen want het is verre van gemakkelijk en wordt aanzien als een misplaatst gebruik van deze kracht.
Zij die dit kunnen worden door andere rassen als 'tovenaressen' beschouwd en zijn deze titel meer dan waard.

Bijzonderheden: This unit has magical attacks, which always have a high chance of hitting an opponent. Deze eenheid kan zijn vijanden vertragen, waardoor hun snelheid en de effectiviteit van hun aanvallen gehalveerd worden. De mysterieuze aanval van deze eenheid brengt zware verwondingen toe aan ondoden, maar ook levenden zijn niet veilig.
Information
| | |
| --- | --- |
| Promoveert van: | Elfensjamaan |
| Promoveert tot: | Elfenbezweerster |
| Prijs: | 34 |
| HP: | 41 |
| Zetten: | 5 |
| XP: | 100 |
| Level: | 2 |
| Alliantie: | neutraal |
| ID | Elvish Sorceress |
| Vermogens: | |
Aanvallen (damage - count)
staf
dichtbij
4 - 2
stomp
omwortel
afstand
4 - 3
stomp
vertraagt
feeënvuur
afstand
7 - 4
mysterieus
magisch
Weerstanden
scherp
0%
puntig
0%
stomp
0%
vuur
0%
koud
0%
mysterieus
0%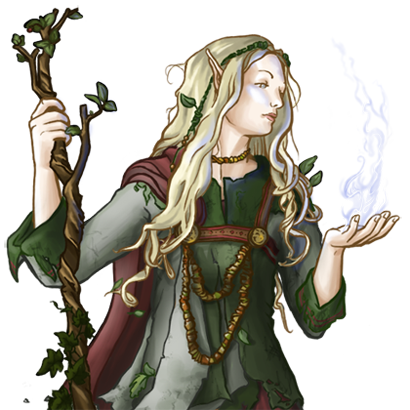 Terrein
Zetten
Terrein
Verdediging
Bergen
3
60%
Bevroren
2
30%
Bos
1
70%
Diep Water
-
0%
Dorp
1
60%
Grot
3
30%
Heuvels
2
50%
Kasteel
1
60%
Kustrif
2
30%
Moeras
2
30%
Onbegaanbaar
-
0%
Ondiep Water
3
20%
Paddenstoelenveld
2
50%
Vlak
1
40%
Zand
2
30%