Elfendruïde

De magie van boselfen is niet gericht op strijd, maar desondanks uiterst effectief. De bossen waarin ze wonen worden met een bevel tot leven geroepen, en ze zullen uithalen naar ieder die hun vrede bedreigd.

Het sterkste punt van de Elfendruïde is de kennis van de geneeskunde en om die kunde worden ze door hun volk vereerd.

Bijzonderheden: Deze eenheid kan zijn vijanden vertragen, waardoor hun snelheid en de effectiviteit van hun aanvallen gehalveerd worden. Deze eenheid kan degenen die hem omringen genezen, ook van vergif. This unit has magical attacks, which always have a high chance of hitting an opponent.
Information
| | |
| --- | --- |
| Promoveert van: | Elfensjamaan |
| Promoveert tot: | Elfenfee |
| Prijs: | 34 |
| HP: | 36 |
| Zetten: | 5 |
| XP: | 80 |
| Level: | 2 |
| Alliantie: | neutraal |
| ID | Elvish Druid |
| Vermogens: | geneest, verpleegt +8 |
Aanvallen (damage - count)
staf
dichtbij
4 - 2
stomp
verstrik
afstand
6 - 2
stomp
vertraagt
doornen
afstand
6 - 3
puntig
magisch
Weerstanden
scherp
0%
puntig
0%
stomp
0%
vuur
0%
koud
0%
mysterieus
-10%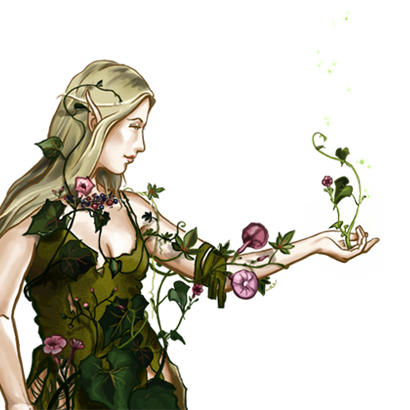 Terrein
Zetten
Terrein
Verdediging
Bergen
3
60%
Bevroren
2
30%
Bos
1
70%
Diep Water
-
0%
Dorp
1
60%
Grot
3
30%
Heuvels
2
50%
Kasteel
1
60%
Kustrif
2
30%
Moeras
2
30%
Onbegaanbaar
-
0%
Ondiep Water
3
20%
Paddenstoelenveld
2
50%
Vlak
1
40%
Zand
2
30%