Ildsprutende drage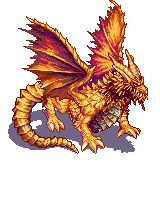 En drage er en legendarisk skapning, vanligvis bare sett i fantastiske eventyr. De er veldig sjeldne, og hadde det ikke vært for de historiske hendelsene, de egenhendige ødeleggelsene av stor- og småbyer som disse skapningene har sørget for, så hadde de kanskje vært noe annet enn bare myte. Legender forklarer veldig nøyaktig om dragenes ødeleggelser; som deres utrolige styrke, fart, deres evne til å lure folk, og ikke minst, den store flammen som brenner inne i dem.

Å kjempe mot en drage sies å være ekstremt farlig. Å kjempe mot en er bare for de mest dumdristige, eller de modigste knektene.

Special Notes: Enhetens skarpskytterferdigheter garanterer høy treffsjanse, men bare i angrep. The leadership of this unit enables adjacent units of the same side to deal more damage in combat, though this only applies to units of lower level.
Information
| | |
| --- | --- |
| Advances from: | |
| Forfremmes til: | |
| Kostnad: | 100 |
| HP: | 101 |
| Forflytning: | 8 |
| XP: | 250 |
| Level: | 5 |
| Sinnelag: | lyssky |
| ID | Fire Dragon |
| Egenskaper: | leder |
Attacks (damage - count)
bitt
nærkamp
21 - 2
hugg
hale
nærkamp
24 - 1
slag
ildpust
avstand
14 - 4
ild
skarpskytende
Resistances
hugg
10%
stikk
-10%
slag
20%
ild
100%
frost
-50%
arkan
-30%
Terreng
Forflytningskostnad
Terreng
Forsvar
Borg
1
40%
Deep Water
2
20%
Fjell
1
40%
Flate
1
30%
Frossen
2
20%
Grotte
3
30%
Grundt vann
1
20%
Kystrev
1
30%
Landsby
1
40%
Sand
1
40%
Skog
1
40%
Soppvokst grotte
2
40%
Sump
1
30%
Utilgjenglig
1
40%
Åser
1
40%