Fire Dragon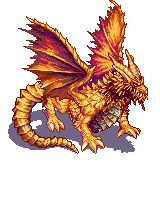 A dragon is a legendary creature, normally seen only in fantastic tales. They are very rare, and were it not for the historical events, the singlehanded destruction of cities and towns that these creatures have wrought, they might be dismissed as mere myth. Legends are very specific about the ravages of dragons; noting their great strength, speed, their preternatural cunning, and above all else, the great fire that burns inside of them.

Battling a dragon is said to be the pinnacle of danger itself, fit only for fools, or the bravest of knights.

Īpašas piezīmes: Šīs vienības mērķīšaušanas prasme dod tai lielas iespējas trāpīt pretiniekiem, bet tikai uzbrūkot. Šīs vienības vadības spējas ļauj blakus esošajām tās pašas puses vienībām nodarīt lielākus bojājumus kaujā, bet tas attiecas tikai uz zemāku līmeņu vienībām.
Information
| | |
| --- | --- |
| Attīstās no: | |
| Attīstās uz: | |
| Izmaksas: | 100 |
| Veselība: | 101 |
| Pārvietošanās: | 8 |
| Pieredze: | 250 |
| Level: | 5 |
| Īpašība: | haotisks/-a |
| ID | Fire Dragon |
| Spējas: | vada |
Uzbrukumi (damage - count)
bite
tuvcīņa
21 - 2
griež
aste
tuvcīņa
24 - 1
sit
uguns elpa
lādiņš
14 - 4
dedzina
precizitāte
Izturība
griež
10%
caurdur
-10%
sit
20%
dedzina
100%
saldē
-50%
mistisks
-30%
Apvidus
Pārvietošanās izmaksas
Apvidus
Aizsardzība
Ala
3
30%
Ciems
1
40%
Dzelme
2
20%
Kalni
1
40%
Līdzenums
1
30%
Mežs
1
40%
Necaurejams
1
40%
Pauguri
1
40%
Piekrastes rifs
1
30%
Pils
1
40%
Purvs
1
30%
Sasalis
2
20%
Seklums
1
20%
Smiltis
1
40%
Sēņu birzs
2
40%