Elfu burve

Feju pasaule ir daudz spēcīgāka par materiālo pasauli. Vienkārši ienesot mazliet šīs pasaules mūsējā jau var novest pie vardarbīgām sekām. Elfi to ļoti labi saprot, lai gan reti kad lietots ar sliktu nolūku, tas nav vienkārši izdarāms, un tiek uzskatīts par ļoti sliktu viņu spēka pielietošanas veidu.

Tos, kuri ir spējīgi to izdarīt, citas rases sauc rupji par 'burvēm', un tie pavisam noteikti ir spējīgi tēlot šo lomu.

Īpašas piezīmes: Šai vienībai ir maģiski uzbrukumi, kuriem vienmēr ir liela trāpīšanas iespējamība. Šī vienība spēj palēlināt tās ienaidniekus, samazinot uz pusi to pārvietošanās ātrumu un uzbrukuma spēku līdz gājiena beigām. Šīs vienības mistikas uzbrukums rada satriecošus bojājumus maģiskajiem radījumiem, un kaut kādus arī pasaulīgajiem radījumiem.
Information
| | |
| --- | --- |
| Attīstās no: | Elfu šamane |
| Attīstās uz: | Elfu vārdotāja |
| Izmaksas: | 34 |
| Veselība: | 41 |
| Pārvietošanās: | 5 |
| Pieredze: | 100 |
| Level: | 2 |
| Īpašība: | neitrāls/-a |
| ID | Elvish Sorceress |
| Spējas: | |
Uzbrukumi (damage - count)
zizlis
tuvcīņa
4 - 2
sit
sapīšana
lādiņš
4 - 3
sit
sapīšana
feju uguns
lādiņš
7 - 4
mistisks
maģija
Izturība
griež
0%
caurdur
0%
sit
0%
dedzina
0%
saldē
0%
mistisks
0%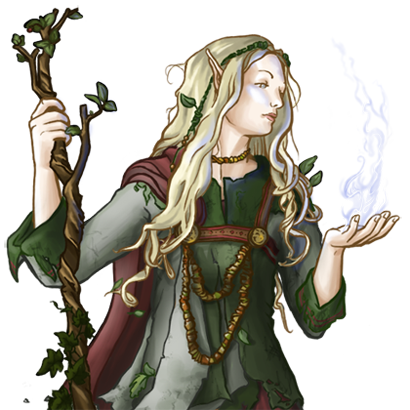 Apvidus
Pārvietošanās izmaksas
Apvidus
Aizsardzība
Ala
3
30%
Ciems
1
60%
Dzelme
-
0%
Kalni
3
60%
Līdzenums
1
40%
Mežs
1
70%
Necaurejams
-
0%
Pauguri
2
50%
Piekrastes rifs
2
30%
Pils
1
60%
Purvs
2
30%
Sasalis
2
30%
Seklums
3
20%
Smiltis
2
30%
Sēņu birzs
2
50%