Elfu šamane

Būdami pēz dabas dabas daļēji fejas, elfiem ir iedzimtas maģiskās spējas. Tas parādās to patikā pret dabisko pasauli, kuru tie spēj uzrunāt kā sabiedroto kaujā. Ienaidnieki, ieklīstot viņu mežos, var ātri vien tikt sapīti saknēs un pat zeme, uz kuras tie stāv, var kavēt.

Elfu dziedēšanas spējas arī ir ievērojamas, un ļoti nozīmīgas kaujā.

Īpašas piezīmes: Šī vienība spēj palēlināt tās ienaidniekus, samazinot uz pusi to pārvietošanās ātrumu un uzbrukuma spēku līdz gājiena beigām. Šī vienība ir spējīga veikt pamata dziedināšanu.
Information
| | |
| --- | --- |
| Attīstās no: | |
| Attīstās uz: | Elfu priesteriene Elfu burve |
| Izmaksas: | 15 |
| Veselība: | 26 |
| Pārvietošanās: | 5 |
| Pieredze: | 32 |
| Level: | 1 |
| Īpašība: | neitrāls/-a |
| ID | Elvish Shaman |
| Spējas: | dziedē +4 |
Uzbrukumi (damage - count)
zizlis
tuvcīņa
3 - 2
sit
sapīšana
lādiņš
3 - 2
sit
sapīšana
Izturība
griež
0%
caurdur
0%
sit
0%
dedzina
0%
saldē
0%
mistisks
-10%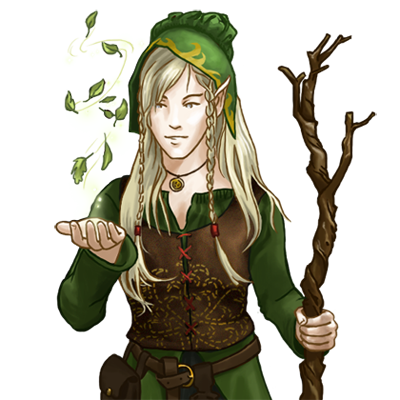 Apvidus
Pārvietošanās izmaksas
Apvidus
Aizsardzība
Ala
3
30%
Ciems
1
60%
Dzelme
-
0%
Kalni
3
60%
Līdzenums
1
40%
Mežs
1
70%
Necaurejams
-
0%
Pauguri
2
50%
Piekrastes rifs
2
30%
Pils
1
60%
Purvs
2
30%
Sasalis
2
30%
Seklums
3
20%
Smiltis
2
30%
Sēņu birzs
2
50%