Elfu ārējais jātnieks

Elfu ārējie jātnieki tiek apmācīti par elfu karaļvalsts karaliskajiem ziņnešiem. Par spīti to cilvēku miermīlīgumam, to pieredze padara tos diezgan nāvējošus kaujā. Neviens cilvēks nekad nav pat spējis pietuvties to lokšaušanas prasmei esot zirga mugurā - īstenībā lielākajai daļai būtu lielas grūtības tai līdzināties arī stāvot uz cieta pamata.

Šo kareivju ātrums ļauj elfiem dot triecienu kad un kur tie izvēlas, cīnoties savā mājas zemē. Tas ir glābis no nāves daudzus no viņiem.
Information
| | |
| --- | --- |
| Attīstās no: | Elfu jātnieks |
| Attīstās uz: | |
| Izmaksas: | 43 |
| Veselība: | 57 |
| Pārvietošanās: | 10 |
| Pieredze: | 150 |
| Level: | 3 |
| Īpašība: | neitrāls/-a |
| ID | Elvish Outrider |
| Spējas: | |
Uzbrukumi (damage - count)
zobens
tuvcīņa
7 - 4
griež
loks
lādiņš
8 - 3
caurdur
Izturība
griež
0%
caurdur
-20%
sit
0%
dedzina
0%
saldē
0%
mistisks
-10%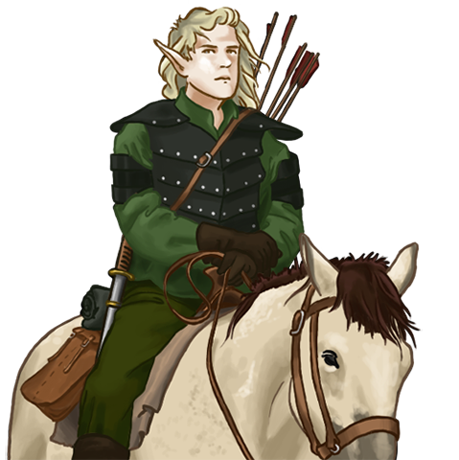 Apvidus
Pārvietošanās izmaksas
Apvidus
Aizsardzība
Ala
3
30%
Ciems
1
60%
Dzelme
-
0%
Kalni
3
60%
Līdzenums
1
40%
Mežs
1
60%
Necaurejams
-
0%
Pauguri
2
50%
Piekrastes rifs
2
30%
Pils
1
60%
Purvs
2
30%
Sasalis
2
30%
Seklums
3
20%
Smiltis
2
30%
Sēņu birzs
2
50%