Direwolf Rider

'Dire wolves' differ from the common variety only in size and color. They typically stand taller than a horse at the shoulder, and have an appetite to match. Only a madman would willingly encounter them; but goblins, at great cost to themselves, have managed to tame and ride them.

The claws of a wolf are not generally regarded as being the more dangerous parts, but on a beast this large, they are thicker and longer than iron nails. Their riders smear a poison on the front set, not unlike that used by the orcish assassins, making a swipe from these beasts' paws into a most deadly stroke.

Īpašas piezīmes: Šīs vienības indes upuris nepārtraukti saņems bojājumus līdz to var tikt izārstēt ciemā vai vienība, kura spēj ārstēt.
Information
| | |
| --- | --- |
| Attīstās no: | Goblin Knight |
| Attīstās uz: | |
| Izmaksas: | 41 |
| Veselība: | 61 |
| Pārvietošanās: | 10 |
| Pieredze: | 150 |
| Level: | 3 |
| Īpašība: | haotisks/-a |
| ID | Direwolf Rider |
| Spējas: | |
Uzbrukumi (damage - count)
ilkņi
tuvcīņa
9 - 4
griež
nagi
tuvcīņa
4 - 4
griež
inde
Izturība
griež
0%
caurdur
0%
sit
0%
dedzina
0%
saldē
0%
mistisks
0%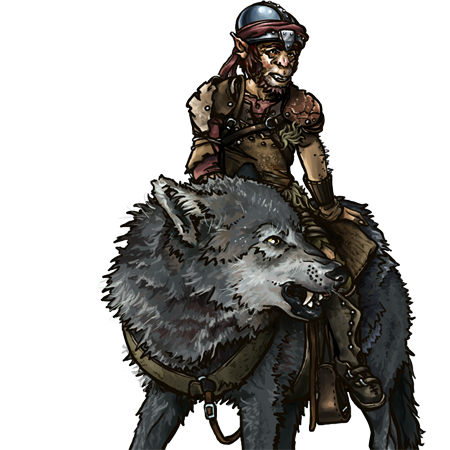 Apvidus
Pārvietošanās izmaksas
Apvidus
Aizsardzība
Ala
2
40%
Ciems
1
60%
Dzelme
-
0%
Kalni
2
60%
Līdzenums
1
40%
Mežs
2
50%
Necaurejams
-
0%
Pauguri
1
50%
Piekrastes rifs
2
30%
Pils
1
60%
Purvs
3
30%
Sasalis
2
20%
Seklums
3
20%
Smiltis
2
30%
Sēņu birzs
3
40%