Ugninis drakonas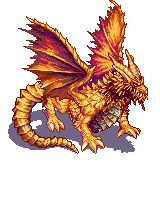 Drakonas yra legendinė būtybė, paprastai matoma tik fantastinėse pasakose. Jie yra reti ir, jei ne istoriniai įvykiai, miestai ir miesteliai, kuriuos šios būtybės sunaikino be kieno nors pagalbos, jie galėtų būti laikomi paprasčiausiu mitu. Legendos labai tiksliai aprašo drakonų padarytus sugriovimus; pažymėdamos jų didžią jėgą, greitį ir jų antgamtišką klastingumą, ir, kas svarbiausia, didžią ugnį, degančią juose.

Sakoma, kad kova su drakonu yra pavojaus viršūnė, tinkanti tik kvailiams arba drąsiausiems riteriams.

Ypatingos pastabos: This unit's marksmanship gives it a high chance of hitting targeted enemies, but only on the attack. Šio dalinio vadovavimas leidžia greta esantiems tos pačios pusės daliniams padaryti daugiau žalos mūšyje, tačiau tai galioja tik žemesnio lygio daliniams.
Information
| | |
| --- | --- |
| Tobulėja iš: | |
| Tobulėja į: | |
| Kaina: | 100 |
| GT: | 101 |
| Judėjimas: | 8 |
| PT: | 250 |
| Level: | 5 |
| Prigimtis: | chaotiškas |
| ID | Fire Dragon |
| Gebėjimai: | vadovavimas |
Atakos (damage - count)
įkandimas
peštynės
21 - 2
kirtimas
uodega
peštynės
24 - 1
smūgis
ugnies pliūpsnis
šaudymas
14 - 4
ugnis
snaiperis
Atsparumai
kirtimas
10%
dūris
-10%
smūgis
20%
ugnis
100%
šaltis
-50%
paslaptinga
-30%
Vietovė
Judėjimo kaina
Vietovė
Gynyba
Gilus vanduo
2
20%
Grybų giraitė
2
40%
Kaimas
1
40%
Kalnai
1
40%
Kalvos
1
40%
Miškas
1
40%
Nevaikštoma
1
40%
Pakrantės uolynai
1
30%
Pelkė
1
30%
Pilis
1
40%
Plokščia
1
30%
Seklus vanduo
1
20%
Smėlis
1
40%
Urvas
3
30%
Užšalusi
2
20%