Elfų druidė

Miško elfų magija nelabai tinka kovai, bet vis tiek efektyvi. Jų gyvenami miškai gali atgyti nuo įsakmaus žodžio ir staiga smogti tiems, kas grasina jų taikai.

Pagrindinis druidžių gebėjimas yra gydymas, ir būtent dėl šio gebėjimo jos yra gerbiamos savo žmonių tarpe.

Ypatingos pastabos: Šis dalinys sugeba sulėtinti savo priešus, dalydamas pusiau jų judėjimo greitį ir puolimo žalą, iki jų ėjimo pabaigos. Šis dalinys sugeba gydyti aplink jį esančius dalinius ir juos atnuodyti. This unit has magical attacks, which always have a high chance of hitting an opponent.
Information
| | |
| --- | --- |
| Tobulėja iš: | Elfų šamanė |
| Tobulėja į: | Elfų laumė |
| Kaina: | 34 |
| GT: | 36 |
| Judėjimas: | 5 |
| PT: | 80 |
| Level: | 2 |
| Prigimtis: | neutralus |
| ID | Elvish Druid |
| Gebėjimai: | atnuodija, gydo +8 |
Atakos (damage - count)
lazda
peštynės
4 - 2
smūgis
spąstai
šaudymas
6 - 2
smūgis
sulėtina
dygliai
šaudymas
6 - 3
dūris
magiška
Atsparumai
kirtimas
0%
dūris
0%
smūgis
0%
ugnis
0%
šaltis
0%
paslaptinga
-10%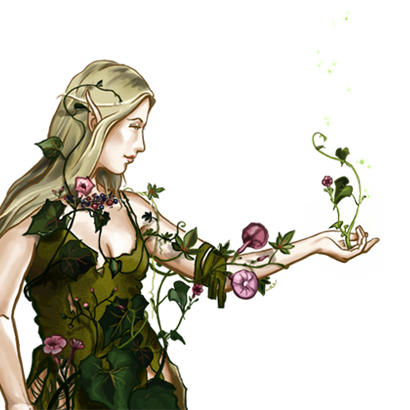 Vietovė
Judėjimo kaina
Vietovė
Gynyba
Gilus vanduo
-
0%
Grybų giraitė
2
50%
Kaimas
1
60%
Kalnai
3
60%
Kalvos
2
50%
Miškas
1
70%
Nevaikštoma
-
0%
Pakrantės uolynai
2
30%
Pelkė
2
30%
Pilis
1
60%
Plokščia
1
40%
Seklus vanduo
3
20%
Smėlis
2
30%
Urvas
3
30%
Užšalusi
2
30%