Draco Ignis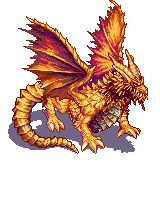 Dragones sunt bestiae fabulosae. Perrari sunt, et, nisi historia oppidorum urbiumque ab eis solis destructorum, non perscriberentur. Fabulae de devastiones draconum assiduissime describuntur: fortitudinem, celeritatem magnum, calliditatem praeter naturam, praesertimque ignem immensum qui intus ardet.

Draconi pugnare columen periculi esse dicitur, aptum modo stultis aut virilissimis equitum.

Nota bene: This unit's marksmanship gives it a high chance of hitting targeted enemies, but only on the attack. The leadership of this unit enables adjacent units of the same side to deal more damage in combat, though this only applies to units of lower level.
Information
| | |
| --- | --- |
| Producitur a: | |
| Producitur ad: | |
| Pretium: | 100 |
| PS: | 101 |
| Motus: | 8 |
| PU: | 250 |
| Level: | 5 |
| Pars: | nocturnus |
| ID | Fire Dragon |
| Facultates: | ducatus |
Impetus (damage - count)
mordere
comminus
21 - 2
lamina
cauda
comminus
24 - 1
impulsum
aura ignis
eminus
14 - 4
ignis
perspicax
Firmitas
lamina
10%
cuspis
-10%
impulsum
20%
ignis
100%
frigidum
-50%
mysticum
-30%
Terra
Pretium Motus
Terra
Defensio
Aqua
1
20%
Castellum
1
40%
Caverna
3
30%
Colles
1
40%
Cotes
1
30%
Glaciale
2
20%
Harena
1
40%
Invium
1
40%
Montes
1
40%
Nemus Fungorum
2
40%
Palus
1
30%
Planum
1
30%
Salum
2
20%
Silva
1
40%
Viculus
1
40%