Lupes Dirus

'Lupi diri' a lupis mediocribus tantum in magnitudine et colore differunt. Altiores sunt quam umerus equi, et fames habent par. Tantum insanus eis libenter obviam eat, sed orcules, quod magno stetit, equitando eos domare possunt.

Ungues lupi non in commune videntur periculosi, sed quia bestia tam magna est, densiores et longiores clavis ferreis sunt. Lupites eorum in ungues anteriores venenum similem eo sicariorum orcum ungunt, laceratio ita unguium in ictum acerbissimum vertitur.

Nota bene: The victims of this unit's poison will continually take damage until they can be cured in town or by a unit which cures.
Information
| | |
| --- | --- |
| Producitur a: | Robur Lupitum |
| Producitur ad: | |
| Pretium: | 41 |
| PS: | 61 |
| Motus: | 10 |
| PU: | 150 |
| Level: | 3 |
| Pars: | nocturnus |
| ID | Direwolf Rider |
| Facultates: | |
Impetus (damage - count)
dentes
comminus
9 - 4
lamina
ungues
comminus
4 - 4
lamina
venenat
Firmitas
lamina
0%
cuspis
0%
impulsum
0%
ignis
0%
frigidum
0%
mysticum
0%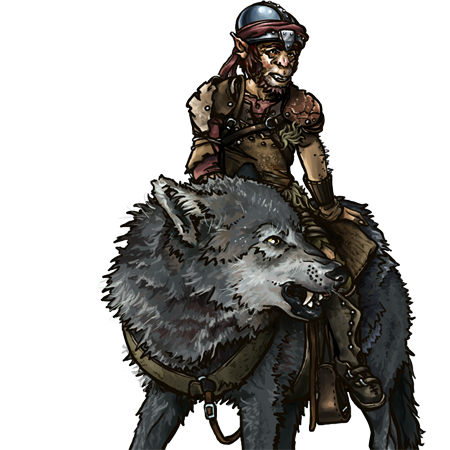 Terra
Pretium Motus
Terra
Defensio
Aqua
3
20%
Castellum
1
60%
Caverna
2
40%
Colles
1
50%
Cotes
2
30%
Glaciale
2
20%
Harena
2
30%
Invium
-
0%
Montes
2
60%
Nemus Fungorum
3
40%
Palus
3
30%
Planum
1
40%
Salum
-
0%
Silva
2
50%
Viculus
1
60%