Elvish Druid

The magic of the wood-elves is poorly suited for combat, but effective nonetheless. The forests in which they thrive can become quickened by a word of command, and will lash out at those who threaten their peace.

The chief ability of Druids lies in healing, and it is for this skill that they are revered by their people.

Athugasemd: Þessi eining hægir á óvinum sínum, minkandi hreyfigetu þeirra og skaða um helming þar til skotmörkin enda lotu. Þessi eining getur læknað þá sem standa næst sér, og læknað þá af eitri. This unit has magical attacks, which always have a high chance of hitting an opponent.
Information
| | |
| --- | --- |
| Eflist frá: | Elvish Shaman |
| Eflist í: | Elvish Shyde |
| Kostnaður: | 34 |
| HP: | 36 |
| Hreyfing: | 5 |
| XP: | 80 |
| Level: | 2 |
| Stilling: | hlutlaus |
| ID | Elvish Druid |
| Hæfileikar: | heilar, læknar +8 |
Árásir (damage - count)
stafur
skylming
4 - 2
höggvopn
ensnare
langdræg
6 - 2
höggvopn
hægir
þyrnir
langdræg
6 - 3
stungvopn
galdrar
Mótstöður
eggvopn
0%
stungvopn
0%
höggvopn
0%
eldur
0%
kuldi
0%
yfirnáttúrulegt
-10%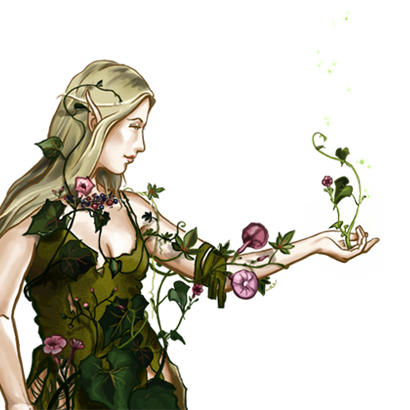 Jörð
Kostnaður Hreyfingar
Jörð
Vörn
Deep Water
-
0%
Fjöll
3
60%
Flatlendi
1
40%
Frost
2
30%
Grunnt vatn
3
20%
Hellir
3
30%
Hólar
2
50%
Kastali
1
60%
Mýri
2
30%
Sandur
2
30%
Skógur
1
70%
Sveppalundur
2
50%
Árif
2
30%
Ógengilegt
-
0%
Þorp
1
60%