ליץ' עתיק

יצור ממסדר זה הוא זכרון של זמנים נשכחים של עוצמה וקסם. למי שנתקל בליץ' עתיק, יש כנראה, דברים הרבה יותר גרועים ממוות לדאוג עליהם.

הערות מיוחדות: ההתקפות לטווח רחוק של ליץ' הן קסומות, ויש להן תמיד סיכוי גבוה לפגוע באוייב. מגעו של הליץ' מנקז את החיים מהקורבן לחידוש הליץ'.

מיוחד: This unit has magical attacks, which always have a high chance of hitting an opponent. במהלך הקרב, יחידה זו יכולה לינוק חיים מקורבנותיה כדי לחדש את בריאותה. התקפות הקסם של יחידה זו מורידות נזק עצום ליצורים קסומים, וגם קצת לאלו הרגילים. יחידה זו יכולה ללככת על הקרקעית במים עמוקים כך שאויביה לא יראו אותה.
Information
| | |
| --- | --- |
| מתקדמת מ: | |
| מתקדמת אל: | |
| עלות: | 100 |
| נק"פ: | 80 |
| תנועה: | 6 |
| נק"נ: | 200 |
| Level: | 4 |
| נטייה: | תוהו |
| ID | Ancient Lich |
| יכולות: | צלילה |
התקפות (damage - count)
מגע
קפא"פ
8 - 4
כוח
יניקה
סופת כפור
טווח רחוק
13 - 5
קור
קסום
גל צללים
טווח רחוק
9 - 5
כוח
קסום
עמידויות
חותך
10%
חודר
30%
מוחץ
-10%
אש
-20%
קור
60%
כוח
-50%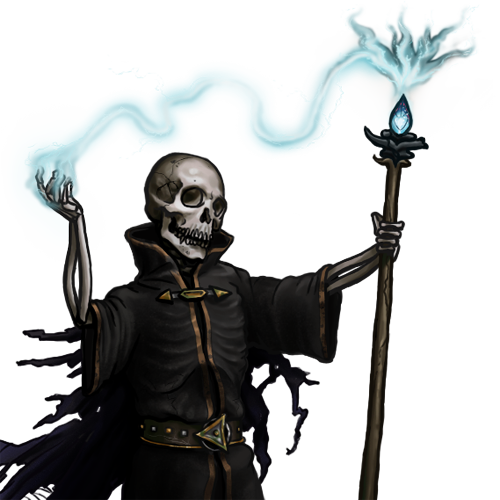 סוג שטח
מחיר תנועה
סוג שטח
הגנה
אלמוגים
2
30%
בלתי הליך
-
0%
גבעות
2
50%
הרים
3
60%
חול
2
30%
חורשת פטריות
2
60%
טירה
1
60%
יער
2
50%
כפר
1
60%
מי ביצה
2
30%
מים עמוקים
3
10%
מים רדודים
3
20%
מערה
2
40%
קפוא
2
30%
שטוח
1
40%