Ban-foghlamaiche-mhara

Young mermaids are often initiated into the water magics native to their people. The wondrous abilities this grants are inimitable by any other race, a mark of the faerie side of these creatures.

Despite their frailty, this makes them quite formidable in combat, as they can call upon the very water about them to smite their enemies.

Aire sònraichte: Tha ionnsaighean draoidheach aig an aonad seo aig a bheil an-còmhnaidh deagh sheans bualaidh air an nàmhaid.
Information
| | |
| --- | --- |
| Àrdaichidh e bho: | |
| Àrdaichidh e gu: | Ban-sagairt-mhara Fiosaiche-mara |
| Cosgais: | 19 |
| PB: | 27 |
| Gluasad: | 6 |
| PE: | 50 |
| Level: | 1 |
| Co-thaobhadh: | dligheach |
| ID | Mermaid Initiate |
| Comasan: | |
Ionnsaighean (damage - count)
bata
dlùth
7 - 1
bualadh
smùid na mara
astar
8 - 2
bualadh
draoidheach
Comasan-seasaimh
lann
0%
bioradh
0%
bualadh
0%
teine
0%
fuachd
20%
dìomhair
0%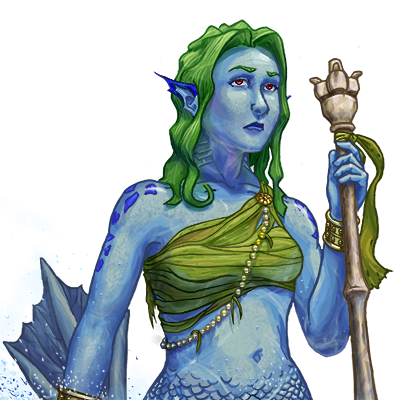 Cruth-tìre
Cosgais ghluasaid
Cruth-tìre
Dìon
Badan balgain-bhuachair
3
20%
Baile
1
40%
Beanntan
-
0%
Boglach
1
60%
Caisteal
1
40%
Cnuic
5
30%
Coille
5
30%
Do-choiseach
-
0%
Gaineamh
2
30%
Reòite
2
30%
Riof cladaich
2
70%
Rèidh
2
30%
Tanalach
1
60%
Uamh
3
20%
Uisge domhain
1
50%