Conjuradora elfa

The world of faerie is far more potent than the corporeal world. Simply bringing some of this world into our own can have violent results. This is well-understood by the elves, although rarely used with malicious intent; doing so is no easy task, and is a very ill-regarded use of their strength.

Those able to do so are roughly titled as 'sorceresses' by other races; and certainly are capable of acting the part.

Notas especiales: La unidad tiene ataques mágicos, que siempre tienen una alta probabilidad de golpear a un oponente. Esta unidad es capaz de ralentizar a sus enemigos, reduciendo a la mitad su velocidad de movimiento y daño de ataque hasta que acabe el turno. El ataque arcano de esta unidad inflige un tremendo daño a los no muertos y algo de daño a las criaturas vivas.
Information
| | |
| --- | --- |
| Procede de: | Chamán elfa |
| Se convierte en: | Encantadora elfa |
| Coste: | 34 |
| PV: | 41 |
| Movimiento: | 5 |
| PX: | 100 |
| Level: | 2 |
| Alineamiento: | neutral |
| ID | Elvish Sorceress |
| Habilidades: | |
Ataques (damage - count)
bastón
cuerpo a cuerpo
4 - 2
de impacto
enredar
a distancia
4 - 3
de impacto
ralentiza
fuego feérico
a distancia
7 - 4
arcano
mágico
Resistencias
de corte
0%
de penetración
0%
de impacto
0%
de fuego
0%
de frío
0%
arcano
0%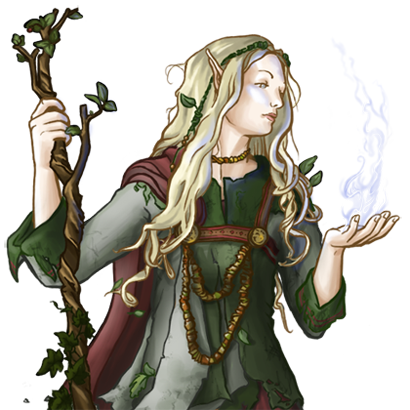 Terreno
Coste de movimiento
Terreno
Defensa
Aguas profundas
-
0%
Aguas someras
3
20%
Aldea
1
60%
Arena
2
30%
Arrecife costero
2
30%
Bosque
1
70%
Campo de setas
2
50%
Castillo
1
60%
Colinas
2
50%
Congelado
2
30%
Cueva
3
30%
Intransitable
-
0%
Llano
1
40%
Montañas
3
60%
Pantano
2
30%