Artesano rúnico enano

Dwarvish runesmiths, now practiced at their craft, carve arcane runes into their weapons and armor. These runes infuse the runesmith's blows with power and accuracy, and disrupt the blows of their enemies, causing them to strike softly, weakly and on the armor of the defender.

Notas especiales: La unidad tiene ataques mágicos, que siempre tienen una alta probabilidad de golpear a un oponente.
Information
| | |
| --- | --- |
| Procede de: | |
| Se convierte en: | Maestro rúnico enano |
| Coste: | 30 |
| PV: | 40 |
| Movimiento: | 4 |
| PX: | 86 |
| Level: | 2 |
| Alineamiento: | neutral |
| ID | Dwarvish Runesmith |
| Habilidades: | |
Ataques (damage - count)
martillo
cuerpo a cuerpo
12 - 2
de impacto
mágico
Resistencias
de corte
40%
de penetración
30%
de impacto
30%
de fuego
10%
de frío
10%
arcano
10%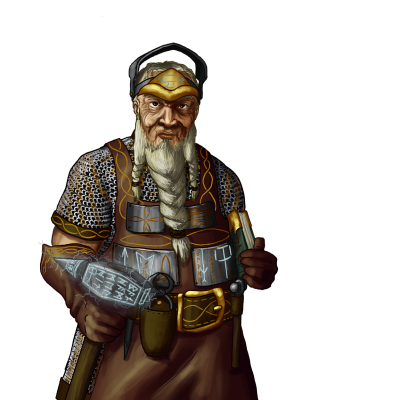 Terreno
Coste de movimiento
Terreno
Defensa
Aguas profundas
-
0%
Aguas someras
3
20%
Aldea
1
50%
Arena
1
30%
Arrecife costero
2
30%
Bosque
1
30%
Campo de setas
1
40%
Castillo
1
60%
Colinas
1
60%
Congelado
2
30%
Cueva
1
50%
Intransitable
-
0%
Llano
1
30%
Montañas
1
70%
Pantano
3
20%