Maestro rúnico enano

Except for those with almost supernatural skill, the highest rank a runecrafter can rise to is that of the Dwarvish Runemaster. Striking blows nearly as powerful as those of the best warriors, they would be fearsome without their craft, but with it they are also nigh on invincible, since their runes cause the physical blows of their enemies to deal less damage than would be expected.

Notas especiales: La unidad tiene ataques mágicos, que siempre tienen una alta probabilidad de golpear a un oponente.
Information
| | |
| --- | --- |
| Procede de: | Artesano rúnico enano |
| Se convierte en: | |
| Coste: | 50 |
| PV: | 48 |
| Movimiento: | 4 |
| PX: | 150 |
| Level: | 3 |
| Alineamiento: | neutral |
| ID | Dwarvish Runemaster |
| Habilidades: | |
Ataques (damage - count)
martillo
cuerpo a cuerpo
18 - 2
de impacto
mágico
Resistencias
de corte
50%
de penetración
40%
de impacto
40%
de fuego
10%
de frío
10%
arcano
10%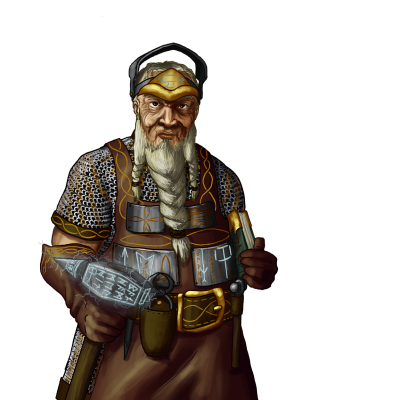 Terreno
Coste de movimiento
Terreno
Defensa
Aguas profundas
-
0%
Aguas someras
3
20%
Aldea
1
50%
Arena
1
30%
Arrecife costero
2
30%
Bosque
1
30%
Campo de setas
1
40%
Castillo
1
60%
Colinas
1
60%
Congelado
2
30%
Cueva
1
50%
Intransitable
-
0%
Llano
1
30%
Montañas
1
70%
Pantano
3
20%