Ilddrage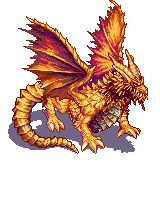 En drage er en legendarisk skabning, som normalt kun ses i eventyr. De er meget sjældne, og var det ikke for de historiske begivenheder, ødelæggelsen af byer og landsbyer som de har hærget med, ville de blive afskrevet som en myte. Legenderne er meget specifikke om deres ødelæggelser; specielt om deres store styrke, hastighed, deres overnaturlige udspekulerthed, og især deres evne til at udspy ild.

At kæmpe mod en drage siges at være det ultimative i fareopsøgning. kun egnet for tåber, eller de modigste riddere.

Specielle bemærkninger: Denne enheds skydefærdighed giver den en høj chance for at ramme udvalgte fjender, men kun under angreb. The leadership of this unit enables adjacent units of the same side to deal more damage in combat, though this only applies to units of lower level.
Information
| | |
| --- | --- |
| Forfremmes fra: | |
| Forfremmes til: | |
| Pris: | 100 |
| L: | 101 |
| Bevægelse: | 8 |
| EP: | 250 |
| Level: | 5 |
| Sindelag: | lyssky |
| ID | Fire Dragon |
| Evner: | lederskab |
Angreb (damage - count)
bid
nærkamp
21 - 2
klinge
hale
nærkamp
24 - 1
slag
ildånde
afstands
14 - 4
ild
skarpskytte
Modstandskræfter
klinge
10%
stik
-10%
slag
20%
ild
100%
kulde
-50%
magisk
-30%
Terræn
Bevægelsespris
Terræn
Forsvar
Bakker
1
40%
Bjerge
1
40%
Borg
1
40%
Champignonskov
2
40%
Coastal Reef
1
30%
Deep Water
2
20%
Flat
1
30%
Frozen
2
20%
Hule
3
30%
Landsby
1
40%
Lavt vand
1
20%
Sand
1
40%
Skov
1
40%
Sump
1
30%
Unwalkable
1
40%