Elvertroldkvinde

Feens verden er langt mere ressourcefuld end den kropslige verden. Alene det at bringe denne verden ind i vores kan have voldsomme resultater. Dette forstås af elverne, selvom det sjældent bruges med ondt i sinde; at gøre det er ikke en nem opgave, og er en ilde set brug af deres styrke.

Dem som kan gøre det kaldes for troldkvinder af andre racer.

Specielle bemærkninger: This unit has magical attacks, which always have a high chance of hitting an opponent. Denne enhed kan gøre sine modstandere langsomme, bevægelsen bliver halveret og det samme gør angrebsskaden indtil de afslutter en runde. Denne enheds magiske angreb gør umådelig skade til magiske skabninger, og også til nogle levende skabninger.
Information
| | |
| --- | --- |
| Forfremmes fra: | Elvershaman |
| Forfremmes til: | Elverfortryllerske |
| Pris: | 34 |
| L: | 41 |
| Bevægelse: | 5 |
| EP: | 100 |
| Level: | 2 |
| Sindelag: | neutral |
| ID | Elvish Sorceress |
| Evner: | |
Angreb (damage - count)
stav
nærkamp
4 - 2
slag
indfiltre
afstands
4 - 3
slag
langsom
fe-ild
afstands
7 - 4
magisk
magisk
Modstandskræfter
klinge
0%
stik
0%
slag
0%
ild
0%
kulde
0%
magisk
0%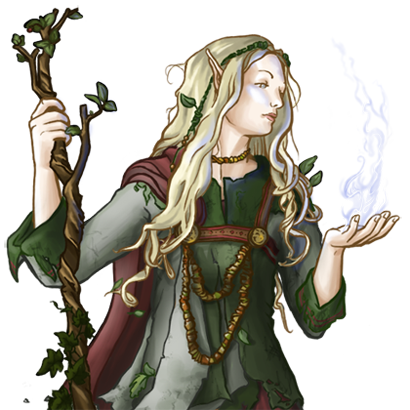 Terræn
Bevægelsespris
Terræn
Forsvar
Bakker
2
50%
Bjerge
3
60%
Borg
1
60%
Champignonskov
2
50%
Coastal Reef
2
30%
Deep Water
-
0%
Flat
1
40%
Frozen
2
30%
Hule
3
30%
Landsby
1
60%
Lavt vand
3
20%
Sand
2
30%
Skov
1
70%
Sump
2
30%
Unwalkable
-
0%