Drakonid rváč

Rváči představují mezi drakonidy jedinečnou kastu. Vzhledem k váze a konstrukci pancíře, který na sebe navlékají, nemohou létat ani chrlit oheň. To je však plně vyváženo ochranou, kterou jim poskytuje proti oštěpům a šípům. Rváči tuto výměnu zdůrazňují tím, že toto brnění nechávají zcela zakrýt jejich křídla a tak dávají najevo, že k vítězství nepotřebují výhodu letu.

Tato kasta má povolenu výjimku z drakonidského tabu a může kromě tradičních kovových drápů bojovat i oštěpy. Regionální potyčky s ostatními kmeny pak mohou řešit vskutku rychle, stejně jako vynutit pořádek ve vlastním kmeni.

Zvláštní rysy: Délka zbraně umožňuje této jednotce zaútočit jako první, a to i tehdy, když se brání.
Information
| | |
| --- | --- |
| Povyšuje z: | |
| Povyšuje na: | Drakonid bijec Drakonid soudce |
| Cena: | 19 |
| životů: | 43 |
| Pohyby: | 5 |
| zkušeností: | 45 |
| Level: | 1 |
| Příslušnost: | zákonná |
| ID | Drake Clasher |
| Schopnosti: | |
Útoky (damage - count)
válečný pařát
zblízka
5 - 4
čepel
oštěp
zblízka
6 - 4
bodnutí
první úder
Odolnosti
čepel
20%
bodnutí
0%
úder
30%
oheň
50%
chlad
-50%
nezemský
-30%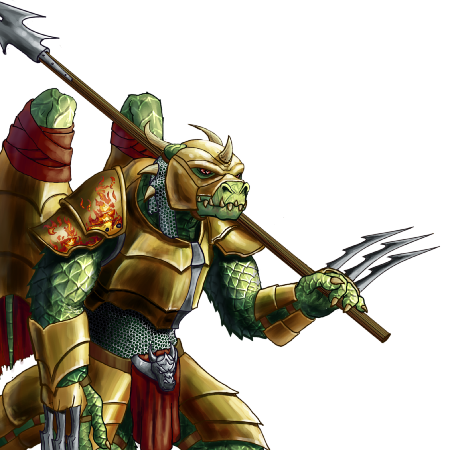 Terén
Bodů pohybu
Terén
Obrana
Hluboká voda
-
0%
Hory
1
40%
Houby, háj
2
40%
Hrad
1
40%
Jeskyně
2
30%
Kopce
1
40%
Les
2
40%
Mokřina
3
20%
Mělká voda
3
20%
Neschůdný
-
0%
Plochý
1
30%
Pobřežní útes
2
30%
Písek
1
40%
Vesnice
1
40%
Zmrzlý
3
20%