Fetillera elfa

El món de les fades és prou més potent que el món material, i transportar senzillament una xicoteta part d'aquest món al nostre pot tindre resultats violents. Els elfs entenen molt bé aquest principi, encara que no solen aprofitar-se d'ell; fer-lo comporta una gran dificultat, i és un ús no gensben vist d'aquestes forces.

Les altres races anomenen fetilleres a les elfes que ho poden fer, i certament són capaces d'actuar com a tals.

Notes especials: This unit has magical attacks, which always have a high chance of hitting an opponent. Esta unitat es capaç d'alentir els seus enemics, dividint per dos el seu moviment i dany causat fins que acaben un torn. L'atac arcà d'esta unitat causa un mal enorme contra criatures màgiques, i fins i tot també contra certes unitats vivents.
Information
| | |
| --- | --- |
| Avança de: | Xaman elfa |
| Avança a: | Encantadora elfa |
| Cost: | 34 |
| HP: | 41 |
| Moviment: | 5 |
| XP: | 100 |
| Level: | 2 |
| Alineació: | neutral |
| ID | Elvish Sorceress |
| Habilitats: | |
Atacs (damage - count)
bastó
melé
4 - 2
impacta
enredar
distància
4 - 3
impacta
alentidor
foc de fada
distància
7 - 4
arcà
màgic
Resistències
talla
0%
perfora
0%
impacta
0%
foc
0%
fred
0%
arcà
0%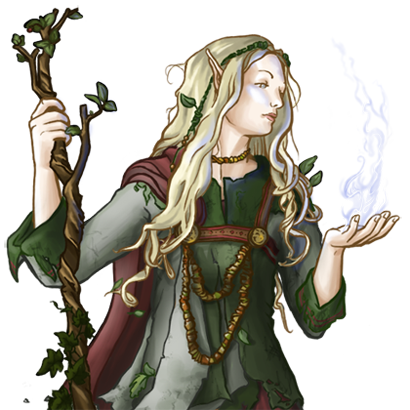 Terreny
Cost del moviment
Terreny
Defensa
Aigua baixa
3
20%
Bosc
1
70%
Boscatge de bolets
2
50%
Castell
1
60%
Cova
3
30%
Deep Water
-
0%
Gelat
2
30%
Impracticable
-
0%
Llogaret
1
60%
Muntanyes
3
60%
Pantà
2
30%
Plana
1
40%
Sorra
2
30%
Trieu costaner
2
30%
Turons
2
50%