Сауриан флангови нападател

Saurian warriors are generally weaker in frame than their elven or human counterparts. This is of course a relative term, and they can still become considerably powerful, whilst losing none of their natural mobility. This is very dangerous in combat, as a careless enemy can soon find their support troops flanked by these creatures.

Special Notes:Бързоходството на единицата и позволява да пренебрегва Зоните на Контрол на враговете си и така да се придвижва необезпокоявана около и през тях.
Information
| | |
| --- | --- |
| Повишения от: | Дебнещ Сауриан |
| Повишения към: | |
| Цена: | 46 |
| Здраве: | 47 |
| Движение: | 7 |
| Опит: | 150 |
| Level: | 3 |
| Уклон: | хаотичен |
| ID | Saurian Flanker |
| Умения: | бързоходство |
Атаки (damage - count)
копие
близък бой
8 - 4
прободна
копие
далечен бой
7 - 2
прободна
Съпротивителни сили
прорезна
-10%
прободна
20%
ударна
-10%
огнена
-20%
смразяваща
-20%
мистична
20%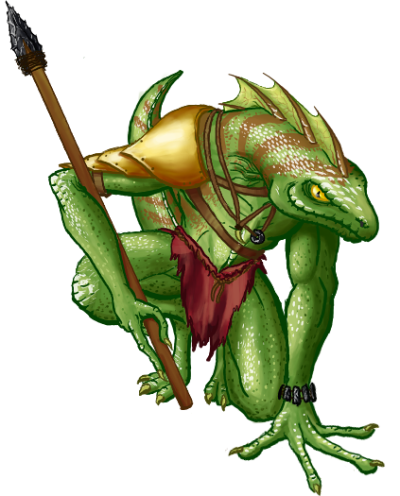 Терен
Стойност на придвижването
Терен
Защита
Coastal Reef
2
40%
Deep Water
-
0%
Flat
1
40%
Frozen
4
30%
Unwalkable
-
0%
Блато
1
60%
Гора
2
60%
Гъбен масив
1
60%
Замък
1
60%
Песъчлив терен
1
60%
Пещера
1
60%
Планини
2
60%
Плитки води
3
40%
Селище
1
50%
Хълмове
1
60%